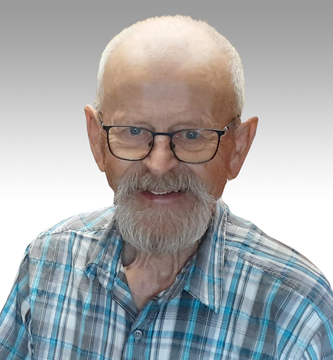 On November 11, 2022, Peter Rodland passed away peacefully at age 89 with his family by his side. 
Peter was born on February 15, 1933, in Helluland, Norway where he grew up on the family farm. In his youth he worked as a farm laborer, an electrician's assistant and construction. 
In 1951 Peter started his carpentry apprenticeship in Norway, but after 4 years decided it was time to explore the world. He joined a cargo ship as an engine boy and worked his way up to repairman. 
In 1960 Peter came to Canada alone with only $50 in his pocket, later teaching himself to speak English. He started working as a carpenter apprentice, eventually receiving his journeyman certificate in April 1963. 
In 1964 Peter began working at STI in Moose Jaw, where he spent the next several years instructing while at the same time completing his high school diploma and University Degree, eventually retiring in 1987. 
It was while living in Moose Jaw that he met and married the love of his life, Yvonne Rodland (Leibel). Peter and Yvonne remained married for 43 years until her passing in November of 2017. 
After retiring from teaching Peter and Yvonne moved to Calgary in 1991. During his retirement years Peter enjoyed photography, travel, camping, motorcycling, woodwork, computers, reading, and fixing and building anything and everything…… (for anyone). One of Peter's favorite past times was spending time with his many friends and neighbors and volunteering his time and talent at the Scandinavian Centre in Calgary. 
Peter will be lovingly remembered and missed by his son and daughter-in-law Dale and Tracy Rodland; and his grandchildren Kacey and Kailen. 
The Funeral Service for Peter will be held on Friday, November 18, 2022 at 10:00 a.m. at Eden Brook Funeral Home, 24223 Township Road 242 Calgary, Alberta T3Z 3K2.  Friends and family are invited to join the family for snacks and refreshments  at Peter's favourite place; Scandinavian Center 739 20th Ave NW Calgary, T2M 1E2.
In lieu of flowers, donations in Peter's name may be made to The Canadian Diabetes Assoc. 919B Albert St Regina, SK S4R 2P6.
Arrangements are entrusted to Moose Jaw Funeral Home, 268 Mulberry Lane.  Michelle Ellis, Funeral Director 306-693-4550