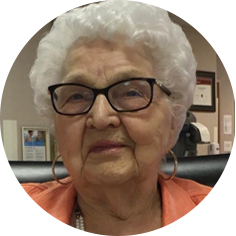 On Friday, August 14th, 2020 Ruth Ring passed on peacefully at Wolf Willow in Eastend, Saskatchewan in the presence of family.  She was in her 97th year.  Born in Saskatchewan to Jacob and Agnes Schultz, Ruth grew up with seven brothers and sisters: Mary, Helen, Henry, Amanda, Jake, Bill and Pete.  She married her sweetheart, Herbert Ring in 1947 and they were happily married for 63 years.  Ruth and Herb settled in Moose Jaw where they raised their family of four children.
Ruth was a hospitable woman who enjoyed people.  She obtained her Color Coding Certification and enjoyed many years color coding and helping people find their wardrobe colors and style.  She taught Sunday School for 50 years at West End Gospel Church which later became Sunningdale Community Church.  She was a woman of strong faith and left a legacy of trusting in her faithful God who saw her through to the end.
Ruth was a source of love and strength to her family and friends.  She will be greatly missed by all, especially by her four children: Brian (Elke), Gail (John), Rafe (Rosa) and Teri; as well as her grandchildren: Nadja (Cardo), Josh (Julie), Jen (Mike), Bill (Jill), Dan (Melissa), and Jacob (Bea); and great-grandchildren: Logan, Eli, Bennett, Hana Leigh and Maya.
Ruth enjoyed her last four years in Eastend, Saskatchewan, near family and was loved by her church family there at Emmanuel Grace Church and Pastor Brad Robertson.  A special thank you to the wonderful staff at Wolf Willow in Eastend who gave her such selfless, loving care to the very end.  Heartfelt appreciation to the Wolf Willow residents whose friendship she enjoyed.
Those who knew and loved Ruth are thankful to God for the time they had with her.  A Graveside Service will be held at Rosedale Cemetery in Moose Jaw on Saturday, August 29th, 2020 at 3:30 pm by reservation to tring74@gmail.com due to the limited number allowed as a result of the health situation.  Please visit Facebook Page: In Memory of Ruth Ring to share your comments and join the service to be live streamed.  Arrangements are entrusted to Moose Jaw Funeral Home, 268 Mulberry Lane.  Todd Sjoberg, Funeral Director 306-693-4550