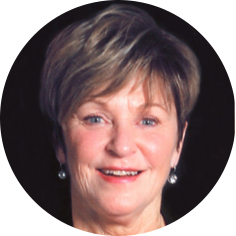 With great sadness and heavy hearts, we announce the passing of our wife, mom and grandma, Sheila Riley, who lost a sudden fight on Tuesday, September 23rd, 2020, leaving a hole for us all. 
Sheila was predeceased by her mother, Nora; father, Harold; and beyond loving stepdad, Grandpa Jim.  Sheila will be dearly missed by her devoted husband, Pat; son, Corey (Louise, grandkids Logan, Tate & Max); daughter, Kristi with a "k" (Chris, grandkids Carter, Jake & Ava); and son, Ryan the "moose" (Brett, grand four legged critter Riggs).  Sheila lost her sister Sharon (Gary, kids Ken, Christine & Faith) and further remembered by Aunt Irene (Lawrence); cousins: Doug, Dave, Janice, and Gerry; Uncle Mag (Lorraine); cousins: Laurie, Jamie, Jeff, Scott & Mike; brother-in-law, Wayne (Linda); and sister-in-law, Patsy (Rueben).
Mom, Momma, Auntie Sheila, Grams, Gma, born in Moose Jaw, SK on March 30th, 1949, spending her too short 71 years here, over 50 with Pat.  Sheila was fiercely proud of her roots, proud of Moose Jaw, proud of Saskatchewan and proud of her family.  Sheila was all she was, right until the end, affectionately referring to Trina in Regina General CCU as "Dragon Lady" and eye rolling her loving husband Pat at the suggestion of her pills.  Mom was bigger than life, afraid of nothing and only wanting the best for everyone, especially those close to her.  A true matriarch, Sheila would stop at nothing to ensure her family was loved, cared for and did the right thing.  An avid sports fan, a staple at Ross Wells, Sheila was involved in all levels of her children's sports, including but not limited to the president of Moose Jaw Little League Baseball, no small task, while raising her three children.  Sheila was able to manage the household affairs, keep the bond with her kids and maintain the incredibly strong relationship with her husband Pat, as his career took exciting turns that involved prolonged periods of travel and living afar – yet not a beat was missed.  When not caring for her family, the breaks she would take involved her love of flowers and gardening.  While certainly not her intention, Sheila owned the yard on the block that neighbors did not like, meticulously manicured, perfectly presented, and full of life, as was she.
Due to the current health situation, a Private Family Service will be held.  Flowers are gratefully declined.  As an expression of sympathy, donations in Sheila's name may be made to the Moose Jaw Food Bank, 305 Fairford St W, Moose Jaw, SK S6H 1V8.  Arrangements are entrusted to Moose Jaw Funeral Home, 268 Mulberry Lane.  Todd Sjoberg, Funeral Director 306-693-4550