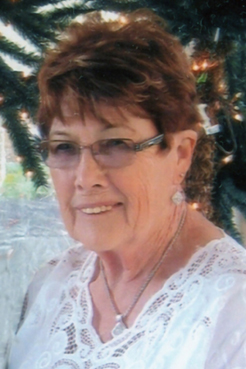 January 1st, 1932 – March 6th, 2022
It is with great sadness, but also with deep appreciation for a 90-year life well lived, that we say goodbye to our beloved mother, grandmother, great-grandmother, sister and friend to many, Goldie May Rigetti (née: Emmons).  With family at her side, Goldie slipped away in the early morning hours of Sunday, March 6th, 2022 at the Dr. F.H. Wigmore Regional Hospital in Moose Jaw, SK following a brief illness with cancer.  
Goldie was born on January 1st, 1932 near Lafleche, SK to Edward and Sorah Emmons.  She was raised as one of seven siblings on the family farm in the Harwood District, 13 miles south of Lafleche.  Goldie had many fond memories of farm life and growing up in a big family.  There were many jobs to do but Goldie especially enjoyed working in the family's large, irrigated gardens where she developed an early appreciation for the land and making things grow.  Summer highlights were picnics with neighbours from miles around in the shade of the large trees at the Emmons farm.  In high school, Goldie used her athletic skills to play back catcher and first base for the Lafleche Arrows.  Fun, hospitality, selflessness, dedication to family, and hard work would remain themes throughout Goldie's life.
A handsome boy from the neighbouring Waverley District began visiting the Emmons farm and on September 2nd, 1950, Goldie Emmons married Alfred Rigetti in Moose Jaw, SK.  They shared their wedding day with Goldie's older brother Ray and Goldie's best friend Margaret.
After a few years living and working in Moose Jaw, during which they started a family and began farming part-time near Lafleche, Goldie and Alfred moved to a farm near Pasqua, SK in the spring of 1955.  There, they built a farm and a life from the ground up and raised their children. 
They started a laying hen operation to provide some consistent income while they worked to establish their grain farm.  Goldie delivered award-winning "Rigetti Eggs" to Moose Jaw hotels, restaurants, and grocery stores.  Goldie loved working outside.  While raising a family, she tended to the chickens, hauled grain, grew a large vegetable garden every summer, and developed and maintained a beautiful farmyard.  She made it all appear easy and looked stylish doing it.
The community of Pasqua became home to Goldie and she appreciated both its people and the area's heavy soil.  She was thankful for the help she received while getting established in the community, and in turn she served others by volunteering many hours, supporting Pasqua community activities, fundraising for the Kidney Foundation, and sitting on the School Board.
As easily and capably as Goldie took on her many roles, the role of mother, grandmother and great-grandmother was her most cherished.  Goldie loved children and was a caring and understanding mother.  She raised her children, Milton and Vicki, to be independent, resilient, and determined.  A great sorrow for Goldie was the loss of her two year old son Ryan to a childhood cancer in 1956.
Their farm was a place where family and friends gathered to celebrate holidays and socialize.  The Rigetti family also spent countless summer weekends with family and friends at Thompson Lake, Buffalo Pound Lake, and Long Lake where Goldie liked to have fun with the kids and would often join them water skiing. 
In the 1970s, as the children grew up and the laying hens were taken over by the next generation, Alfred and Goldie began going south for the winter.  At her home in Fountain of the Sun Country Club in Mesa, Arizona, Goldie enjoyed entertaining family and friends and spent many hours playing golf and cards.  Her excellent intuition was an asset when visiting the area casinos and she was often a winner.
When grandchildren arrived, Goldie's home became a second home to them.  Many memories were made in the motorhome, trips to Disneyland, Arizona, the Big Valley Jamboree, and having meals in the field during harvest.
Goldie was a gracious hostess and an extraordinary cook.  She brought grace and ease to the most complex and large gatherings.  Whether the occasion was a family celebration, a casual meal in the field, a dinner party for friends, coffee and pie after working late into the night, or a Goldie breakfast, the table was always beautifully set and the food delicious.  She was also a bit coy and when asked about her recipes, she played her hand close to her chest, often omitting a "secret" ingredient! 
Goldie had a knack for creating beauty in everything from building and landscaping a lovely home and yard on the open plains to putting together outfits.  She grew beautiful flowers like roses, peonies and gladiolas which brought joy to her and others.  She was incredibly stylish and always maintained a perfect French manicure.  Goldie had a way of making things look effortless.  
While many people were attracted to Goldie's warm personality, she especially enjoyed children and always took the time to show interest in their lives, putting birthday cards in the mail if she could not drop them off in-person, never forgetting a name, and always making them feel special and loved.  Perhaps it was her ability to always see the good that in turn drew them to her.
Although strong and independent herself, Goldie was happiest watching her family shine.  Her greatest pride was family and she was the heart of the family, a true matriarch in every sense, kind, generous, wise and insightful.
She was predeceased by her parents, Edward and Sorah Emmons; siblings: Wesley, Alvin, Sylvia and Wilma; several brothers and sisters-in-law, nieces and nephews; and an infant son, Ryan.  Goldie will be lovingly remembered by her husband of nearly 72 years, Alfred Rigetti; brother, Ray Emmons; sister, Alma Salter; son, Milton (Debbie) Rigetti; daughter, Vicki (Keith) Funk; grandchildren: Sara (Randy) Freeman, Robert (Margaret) Rigetti, Chad (Susan) Rigetti, and Savanna Funk; as well as many great-grandchildren, nieces and nephews, and dear friends.
The Funeral Service will be held on Thursday, April 14th, 2022 at 11:00 a.m. in Moose Jaw Funeral Home.  Reverend Deacon Arleen Champion will officiate and interment will take place at Rosedale Cemetery.  Those unable to attend are invited to view the service virtually by going to www.moosejawfuneralhome.com/webcast/.  As an expression of sympathy, donations in Goldie's name may be made to the Cancer Foundation of Saskatchewan, 200-4545 Parliament Ave, Regina, SK S4W 0G3.  Arrangements are entrusted to Moose Jaw Funeral Home, 268 Mulberry Lane.  Michelle Ellis, Funeral Director 306-693-4550