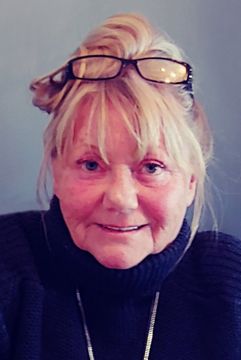 August 24th, 1949 – April 11th, 2023
It is with great sadness that the family of Viola Reaman announces her passing on Tuesday, April 11th, 2023, in Moose Jaw, Saskatchewan at the age of 73 years.  She was predeceased by her loving partner, Lloyd Hackel, whom she lost in October 2020; and her parents, Levi and Gladys Reaman.  Vi will be deeply missed by her children, Kim (Brian), Darren, and Todd (Nadine); grandchildren: Abby, Luke, Breanna, Kaydree, Emery and Everly; brother, Jim; as well as other family members.  She will also be missed by her many friends who were like family to her.
Vi was born in Lestock, Saskatchewan.  Her father was a grain buyer and the family moved around the Prairie Provinces before settling in Moose Jaw in 1961.  Vi was a talented ballet dancer and competed at many Moose Jaw and surrounding area dance festivals.  She spent one summer at the Royal Winnipeg Ballet training on a scholarship.  Vi taught dance at Sitter Dance studio in Moose Jaw, and also had her own studio in Chamberlain, Saskatchewan.
Vi attended high school at the Convent of Zion which later amalgamated with St. Louis College to become Vanier Collegiate.  Vi met her first husband, Art Schoenroth, when they both were in high school.  The couple married in Moose Jaw where their three children were born.
Art was a member of the Canadian Armed Forces and was originally posted to CFB Moose Jaw.  Vi set up a dance studio on the base and taught there until Art was transferred to Winnipeg.  While there and while caring for three children, Vi completed her nursing education at Grace Hospital.  After graduating, she continued to work at the Grace Hospital until the family moved back to Moose Jaw.
Vi continued her nursing career at the Moose Jaw Union Hospital, advancing steadily to positions with more responsibility.  She worked in the ICU and Emergency departments for many years, continually taking additional courses to further her knowledge.  After her divorce, Vi moved to Calgary, AB and continued nursing at the Foothills Hospital and held a leadership position for the ICU and Emergency departments.  While in Calgary, she reconnected with a high school love, Lloyd Hackel.  Eventually, Vi and Lloyd moved back to Moose Jaw where Vi returned to nursing at the Moose Jaw Union Hospital and then the Dr. F.H. Wigmore Regional Hospital from which she retired.
Being a nurse was a calling for Vi.  She had a strong and special connection to the work and to her patients.  She contributed something beyond herself in being a nurse.  Vi had that unique and powerful combination of medical and scientific knowledge with empathy for patients and their families.  And the Moose Jaw community always felt like home to her.  Vi was fondly known as "Mama Vi" at work in Moose Jaw because of her mentoring, supporting, and caring for her coworkers.  One of Vi's granddaughters is a nurse and another will be starting her nursing degree in the fall.
Vi also volunteered her time to the Moose Jaw Health Foundation by sitting on their board and was on the Festival of Trees committee.  Vi enjoyed spending time in her yard among her many flowers.  When the weather didn't permit, taking care and enjoying her many house plants indoors would do.  Entertaining friends and family inside or outside was also a favorite past time.
The family would like to thank the medical staff at the Dr. F.H. Wigmore Regional Hospital and the Regina General Hospital for their care and support.
A Service Celebrating Vi's life will be held on Saturday, April 29th, 2023 at 11:00 a.m. at Hillcrest Apostolic Church, 1550 Main St N, Moose Jaw, SK with Pastor Marvin Seaborg officiating.  As an expression of sympathy, donations in Vi's name may be made to the Moose Jaw Health Foundation, 55 Diefenbaker Drive, Moose Jaw, SK, S6J 0C2.  Arrangements are entrusted to Moose Jaw Funeral Home, 268 Mulberry Lane.  Gary McDowell, Funeral Director 306-693-4550