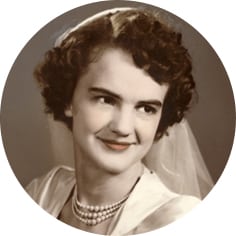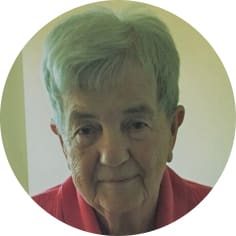 ZELLA MILDRED PURDY (née: Thomson)
Zella was born on her family farm near Biggar, Saskatchewan on November 6th, 1930.  She lived a full life and passed away on Tuesday, February 11th, 2020 at the age of 89 years.
She was predeceased by her parents, Marion and William Thomson; all of her siblings: Catherine, Roderick, Virginia, June, Colin, and Carolyn; foster sister, Darlene; mother-in-law, Irene Purdy; son-in-law, Rudy Muzzo; and Russell, her beloved husband of 64 years, who predeceased her four years ago.  
Zella is survived by her six children: daughter, Laurie Muzzo; son, Richard (Leslie); daughter, Robin (Marvin) Macauley; son, Douglas; son, David (Robyn); and daughter, Marian (Jay) McIntyre.  She also leaves her grandchildren: Nicole, James and Nathan, Jason and Jessica, Erika and Kyle, James, Russell and Christine (and their mother Colleen), Matthew and Kaitlyn, Ryan and Joelle; several great-grandchildren; Russell's sister, Doreen (Otto) Reinke; sisters-in-law, Marion Thomson and Marion Thomson; as well as numerous nieces and nephews.  
Zella grew up on the family farm.  After high school she attended one year of nursing training in Saskatoon, SK and, to her great disappointment, had to quit due to back problems.  She then worked as a secretary in a Psychiatrist's office for a few years. It was in Saskatoon that she met Russell, the love of her life, and they were married in 1952.  They moved from Saskatoon to Moose Jaw in 1960. Zella was a homemaker. She was an excellent cook and spent years baking bread, cooking meals and caring for her large family.  She kept a very organized household, ensuring everyone got to all their extracurricular activities, and often was "volunteered" by her children to load up the Volkswagen van with classmates and friends for transport to school outings, hockey, band events and so on.  In addition, she was Band Manager with the Sprigs of Heather Pipe Band for a year and did volunteer work with the church and YMCA over several years.  
Zella had a keen sense of color, fashion and design.  She could expertly put together clothing or furniture and decor.  When Russell took early retirement and was contracted to work overseas in Ghana, Sri Lanka, and Pakistan, Zella enjoyed furnishing their homes with the lovely local furniture and artwork.  She also enjoyed hostessing some wonderful dinner parties. She and Russell travelled extensively all over the world during those years and for their last 20 years together, they spent three months every winter in Portugal, where they developed many friendships with people from other parts of Canada and many other countries.
Zella will be missed but her family is overjoyed that she is now reunited with Russell and on to new adventures.
At Zella's request, a Private Family Service will be held at a later date.  
The family would also like to extend heartfelt gratitude to the wonderful staff at Moose Jaw Extendicare for the love, care and compassion they offered Zella over the past two years she lived there.
Arrangements are entrusted to Moose Jaw Funeral Home, 268 Mulberry Lane.  Andrew Pratt Funeral Director 306-693-4550