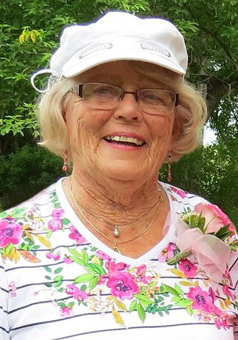 Frances Margaret May Pottruff
Frances Margaret May Pottruff (née: Jackson) passed away peacefully the morning of Tuesday, August 17th, 2021 with her sons Lance and Rob by her side.  Fran was born May 9th, 1924 and grew up on the Jackson farm by Lake Valley, SK with brothers Fred and Bill and sister Florence.  After high school, she attended Business College in Regina, SK and worked as an Executive Assistant to Ted Kramer of Kramer Tractor, where she developed skills that would prove very useful later in life.
Fran married Ken Pottruff and they built a new farm and yard from scratch.  They transformed a bare prairie field into an oasis that later included one of the first in-ground swimming pools that was enjoyed by friends and neighbours for decades.  They hosted many birthday and adult parties that created lasting memories for all that attended.
Fran was very active in Lake Valley and district with activities that included the "Club 500" dances and curling at the Rowletta Civic Centre, golfing in many parts of the province in her camper van, and especially at her condo at Sarah's Cove in Elbow, SK.  She also became a teacher at Brownlee and Eyebrow High Schools and taught one of the skills she learned at business school, typing.  Who knew all those "home row" exercises on the manual typewriters would later become cutting edge skills we all now need, keyboarding on our computers.
Fran instilled the love of travel into her family and travelled the world well into her 90's.  China, Japan, Africa, Australia and Europe were only some of the locations that she noted on her map, proudly hung on her office wall.  But wherever she went, Saskatchewan was always proudly home.
Fran loved her family and any chance to get together as a group.  She was a night owl and would be the last to leave the campfire or conversations, even in the wee hours of the morning.  She didn't want to miss a thing and was always ready to have a chat and listen to what was important to you.
She was predeceased by her husband, Ken in 1996; siblings: Fred, Bill and Flo; daughter-in-law, Verna in 1998; grandson, Brennan in 2012; and nephews, Jay in 1996 and Don in 2021.  Fran is survived by her sons: Lance (Candi) and Rob (Charlene); grandchildren: Chad (Stephanie), Keith, Craig, Staci (Sean), Justin and Shelby; great-grandchildren: Ethan, Carter, Hayden, Sidney, Van and Roman; as well as many much loved nieces and nephews and their families across the country.  They were all part of her love of extended family and she was never too busy for a chat or visit, no matter how long!
She and her family would like to express their sincere and deepest gratitude to the staff at Points West Retirement, as well as the Five Hills Home Care staff who provided such wonderful care and made her last few years so enjoyable. 
A Memorial Service will be held on Thursday, September 2nd, 2021 at 2:00 p.m. in Moose Jaw Funeral Home.  Pastor Marvin Seaborg will officiate and interment will take place at Rosedale Cemetery.  Those not able to attend are invited to watch the service virtually by going to www.moosejawfuneralhome.com/webcast/.  In lieu of flowers, donations in Fran's name may be made to charity of one's choice.
Arrangements are entrusted to Moose Jaw Funeral Home, 268 Mulberry Lane.  James Murdock, Funeral Director 306-693-4550