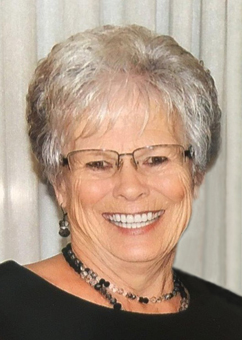 It is with great sadness that we announce the passing of our loving mother, grandmother, great-grandmother, aunt, and friend to many, Norma Faith Polley on Monday, September 27th, 2021.
Norma was born on December 23rd, 1945 to Howard and Katherine Eastman in Moose Jaw, Saskatchewan.  She was the youngest of 5 girls: Mavis, Katherine, Beryl, and Sheila.  Norma spent her first years in Bateman, SK before moving to Central Butte, SK where she attended school.  She often spoke about her active childhood with her family and enjoyed figure skating, curling, playing ball, and attending church with her friends.  She met the love of her life at a dance at Robin Hood School and their story began.  Norma and Garth's 57 years of marriage started on October 11th, 1963 and over the years they had three sons: Evan, Brian and Aaron.
Norma and Garth spent the majority of their lives living and working on the farm in Aquadell, SK.  Norma was always very active, working alongside Garth on the farm and keeping the family fed and organized.  She took great joy in working in the yard and loved her farm animals, especially the dogs and cats.
Family brought Norma so much joy over the years.  She often shared many fond memories of her family, her early times on the farm with her in-laws, and then as a mother to three active boys.  This tight-knit family grew to include three daughters-in-laws and an ever-growing number of grandchildren and great-grandchildren.  She enjoyed watching her children and grandchildren play sports and any other activities they were in.  She took great pride in her grandchildren and great grandchildren.  She loved to spend time with each of them and was always interested in what was important to them.  Every one of them held their own very special spot in her heart.  Norma also loved hosting major holidays for her family, but Christmas was her favourite!  Being surrounded by those she loved during the holidays brought her great joy and she always felt it was worth the hard work she put in.
It brought her joy to be close to her many nieces and nephews and their growing families over the years and was "Aunty Norma" to so many.  She and Garth made so many good friends through the years beyond her extended families.  They spent many hours over the years on the farm playing cards, fishing and having fun with their many friends including Donnie and Margaret, and Neil and Brenda.
In 2007, they moved in to Chaplin, SK until moving again to Moose Jaw, SK in 2019.  Their retirement was spent camping, fishing, and playing cards with their lake friends, whose friendship and support was greatly appreciated.
She was predeceased by her husband, Garth; parents, Howard and Katherine Eastman; in-laws, Robert and Pearl Polley; sisters: Mavis Tucker, Kathy Schmitz, Beryl Eastman, Sheila Schmitz, and Jacques Schmitz; nephews: Roger, Dustin and Colton Schmitz; sister-in-law, Donalda Bauck and her husband Gary; nephew Clinton Bauck.  Norma is survived by the family she and Garth created, sons: Evan (Sherry), Brian (Iris), and Aaron (Nancee); grandchildren: Brittany, Tiffany (Warren), Logan (Randi), Anthony (Kim), Nicholas (Addie), Kadence, and Luke; and great-grandchildren: Bridget, Charlotte, Ayla and Avery.  She is also survived by her brothers-in-law: Neil (Loreena) Polley, Keith (Su) Polley, Mike Schmitz, and Pat Labossiere; sister-in-law Wendy Polley; as well as many nieces and nephews that she loved on both sides of the family.
A Family Graveside Service will be held at a later date.  The family is very grateful for all of the sympathies and kindness shown to them during these trying times, and to all of those that supported Mom following Dad's passing.  Mom's strength, smile and love of family is something that we will all hold tight in our memories.