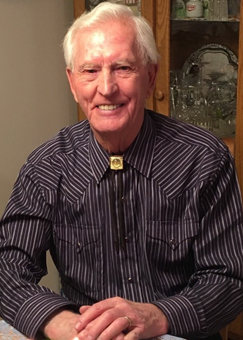 Lenley Jerold Piel of Moose Jaw, SK went to be with his Lord and Saviour on Tuesday, October 26th, 2021 at the age of 87 years.
Len's first home was in Morris, MB where he grew up on the farm.  He went to various schools with his siblings in the area and grew up to be a handsome man of strength, honesty and a love for his Lord.  Len married the love of his life, Lydia in 1954.  He worked for Speeds Delivery and then got his carman papers working with the CPR.  In 1961, they moved to Saskatchewan with his parents so they could take up farming together.  His work ethic became even more evident as he built up his land base to further his grain farming, raised hogs, a few cattle and drove the school bus and did carpentry work on the side.  Len worked hard to provide for his family.  He was on many boards for farming, camps, schools and church.  Len was very involved with their church supporting programs like teaching Sunday School and leading services, songs, meetings and preaching.  He helped build the church in Weyburn, SK by taking on the assistant foreman role.  He sang at many events as a soloist and in groups with others as well, but much loved the times when he was singing with Lydia.
Then off to Alberta in 1985 where they moved to the next stage of their life living on an acreage close to Red Deer.  During that time, L & L Marketing (Len and Lydia) was established with the primary line being sales of photo business cards.  Starting in 1990, they lived in a travel trailer for 12 years enjoying the various parts of Canada and the United States wherever the trailer was parked.  Len and Lydia then settled in Penhold, AB and later Red Deer where they enjoyed many more years together until Lydia went to be with her Lord in 2019.  
Len moved to Moose Jaw with his daughter Wendy to be closer to more of their family.  Len's love for people granted him many new friends and activities.
Len had a love of horses from an early age and enjoying riding and driving teams, and rode in later years in the mountains with his brother-in-law.  He also enjoyed woodworking – making bird houses, benches, cupboards and various projects.  Len's joy was in seeing that his family was cared for and that they knew they were loved.  Len and Lydia were married for almost 65 years.  
He was predeceased by his wife, Lydia; parents, Frederick and Adoline; sister, Violet; brother, Alvin; son-in-law, Bill; and grandchildren Greg and Mark.  Len will be lovingly remembered by his children: Wendy, Jim (Kathy) and Sandy (Kevin); grandchildren: Chelsey (Nathan), Lindsey (Reegan), Aaron (Shelby), Brandon and Brad; 4 great-grandchildren; sisters, Elsie and Gayleen (Vic); brother, Rob; in-laws, John (Gayle) and Margaret; as well as many nieces and nephews, cousins and friends.
A Memorial Service will be held at on Monday, November 1st, 2021 at 2:30 p.m. in Victory Church, 637 Main St N Moose Jaw, SK with Pastor Larry Gerow officiating.  In lieu of flowers, memorial donations in Len's name may be directed to Victory Church, 637 Main St N, Moose Jaw, SK S6H 0W6.  Arrangements are entrusted to Moose Jaw Funeral Home, 268 Mulberry Lane.  Gary McDowell, Funeral Director 306-693-4550