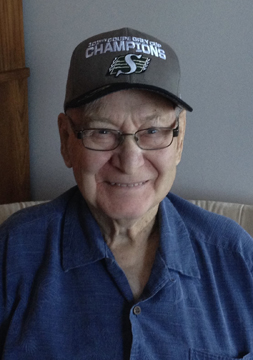 Clifford Alex Petit, aged 86 years of Moose Jaw, SK passed away peacefully on Monday, September 5th, 2022.  Cliff was born June 3rd, 1936 to Ovila and Hulda Petit.  He was raised on the family farm near Ogema, SK until they moved into Ogema when he was 8 years old.  He was predeceased by his parents, Ovila and Hulda Petit; and siblings: Edward Petit (Dora), Henry Petit (Grace), Marie Lloyd (Clayton), and Wilford Petit (Rachael).  Cliff is survived by his wife, Leone; daughter, Allison (Trent) Shillington; son, Darren (Dori-Anne) Petit; grandchildren: Jynel Shillington, Bret Shillington (Madi), Alanda (Zeb) Smith, Reece Shillington (Catherine), Nikki Shillington, and Tyler Petit (Che).  
In 1960, while working at the Halvergate Co-op, Cliff met Leone Isley, a young woman finishing up her nursing training at the Providence Hospital in Moose Jaw.  They married in 1962 and settled in Moose Jaw.  Cliff transferred to the Moose Jaw Co-op, working in the hardware/grocery departments for over 30 years.  He met many lifelong friends while working there and organized a long running lottery group of fellow Co-op employees for over 40 years.
Allison was born in 1965 and Darren in 1968.  Cliff was a family man who always put his family first.  There were many camping trips with his family with some golfing destinations.  The family soon grew with the addition of Trent and Dori-Anne and 6 grandchildren soon to follow.  
Following his retirement from Co-op, he started working at Kalium as a security guard.  Cliff was always very social and loved talking with everybody who walked by his desk. 
After Cliff's retirement in 2000 from Kalium, he became the biggest fan of his grandchildren.  He loved watching the kids at their activities, rarely missing hockey games, singing recitals, football games and motocross races.  He was avid golfer and bowler which he shared with many lifelong friends.  Cliff was a dedicated Saskatchewan Roughrider fan, rarely missing a game on TV. 
In keeping with Cliff's wishes, a private family gathering will be held on the family farm at a later date.  In lieu of flowers, donations in Cliff's name may be made to the Heart and Stroke Foundation of Saskatchewan, Unit 26 – 1738 Quebec Ave, Saskatoon, SK S7K 1V9.  Arrangements are entrusted to Moose Jaw Funeral Home, 268 Mulberry Lane.  Gary McDowell, Funeral Director 306-693-4550