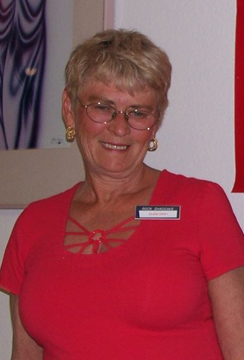 Eileen Fern Perry passed away gracefully the morning of Thursday, April 13th, 2023 at Pioneer Lodge in Moose Jaw, SK.  She was a loving mother, a caring grandmother, and was thrilled to recently become a great-grandmother.
Eileen was born December 8th, 1945 in Saskatoon, SK to Glenn and Magdalena (Lena) Hicks.  She was the 2nd child after her brother Glenn (Barry).  Lena remarried to Norman Hanke and Eileen became big sister to her twin brothers Don and Dale and her baby brother Ken.
Eileen completed school at Sutherland Elementary and attended high school at Saskatoon Tech.  She waited tables at the Eastern Café in Sutherland before becoming a billing clerk at CN Rail and then office manager at Interprovincial Concrete until her retirement.
In 1964 she married John Joseph Gasper and gave birth to her only child, John Theodore in February of 1966.  John (senior) passed in 1968.  Eileen met Harold Perry months later and went on to marry him in 1977.  Eileen and Harold raised John (Theodore) in Saskatoon, SK.  They built a cabin at Big Shell Lake and eventually lived there for over 20 years.  After retirement, they split time between Arizona and the lake.  When Harold passed away in 2011, Eileen moved to Moose Jaw to be closer to her son.
Eileen enjoyed her social clubs, loved playing cards, and toured the country playing and winning dart tournaments.  She loved movies, would read 3 or 4 books in a week, and even tried her hand at acting.
Eileen will be sadly missed by her son, John (Colleen) Gasper; brothers: Barry (Bonnie) Hicks, Dale (Judy) Hanke, Don (Karen) Hanke, and Ken (Kitty) Hanke; grandchildren, Dayna Gasper (John Anthony) and Nicklaus (Breanna) Gasper; great-grandson, Harrison Gasper Ross; and great-granddaughter, Charlie Gasper.
The family would like to send special thanks to Tyler Mudry, Director of Palliative Care and her team, the nurses, caregivers and doctors at Dr. F.H. Wigmore Regional Hospital and Pioneer Lodge for the care and compassion that they gave to our beloved before her passing.
A small family gathering will be held to celebrate her life at later date.  In lieu of flowers, donations in Eileen's name may be made to The Moose Jaw Humane Society, Box 1658 Station Main, Moose Jaw, SK S6H 7K7.  Arrangements are entrusted to Moose Jaw Funeral Home, 268 Mulberry Lane.  Andrew Pratt Funeral Director 306-693-4550