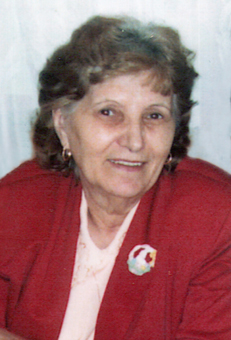 1930-2022
It is with broken hearts and much sadness that the family announces passing of Marija Peko, mother, grandmother, mother-in-law, sister, auntie and a friend.  My Mom, Marija Peko, was born in Komin, Dalmacija, Croatia on Friday, September 13th, 1930 and passed away unexpectedly at the Pioneer Lodge Rehabilitation Centre on Monday, February 7th, 2022 at the ripe age of 91 years.
She was predeceased by her parents, Lovre and Ivka Peko; brothers: Ivo, Mirko, and Lovre; sister, Ana; and an infant grandson, Kim Daillon Wog.  Marija will forever live in the hearts of her loved ones: daughter, Fina Kapovic-Wog; son-in-law, Charles Wog; beloved grandchildren, Devin and Loren Wog; sister, Nevenka Suman and her family; along with other relatives in Croatia, and many friends in Canada and Croatia.  
Marija lived the first half of her life in Croatia and the second half in Canada, coming to Canada in 1975 when she was 45 years old.  Her childhood was greatly impacted by the Second World War, as she was only 10 years old when the war started, causing her to experience enormous amount of fear and witness unspeakable atrocities of that inhuman period in history.  As a young woman, due to circumstances beyond her control, Marija found herself unexpectedly as a single mother trying to fend for herself and her 3 year old daughter with no means of support.  She persevered and labored to make a living.  Eventually she found a "government job" (Communist Yugoslavia at the time) in the hotel industry where she worked for nine years, attaining a position of a supervisor.  Coming to Canada Marija experienced a language barrier, making it difficult to find a job.  Being a resourceful person all her life, she gravitated to the work she was familiar with.  Her 20-working years in Moose Jaw, SK were spent at the Matador and Maynard Motels.  Marija's unwavering belief in God and her Catholic faith sustained her throughout her life-long challenges and hardships.
Classy and stylish to the end, Marija's appearance was always coordinated just so, evoking many compliments on her look and wardrobe.  She was kind, compassionate, empathetic and a true and loyal friend.  Whatever she did, it was with passion and dedication.  One of her hobbies was crocheting, which she enjoyed immensely, attesting to numerous pieces of doilies, tablecloths and bedspreads.  She knitted and sewed, loved to bake and made homemade liqueurs.  Marija loved to dance, especially when it came to polkas and waltzes.  
A very special thank you to Dr. Yolanda Marx for her compassionate and notable care of Mom over the years.  To the Bentley Retirement Home staff, where Mom lived for almost two years, our deep appreciation for all they did for her.  There are no words to express our gratitude to the Pioneer Lodge Memory Lane (Rehabilitation Centre) staff for their remarkable care, empathy and kindness for the three days that Mom was there.  
A Memorial Service will be held on Wednesday, February 16th, 2022 at 11:00 a.m. in St. Joseph's Roman Catholic Church, 1064 3rd Ave NW, Moose Jaw, SK.  In lieu of flowers, donations in Marija's name may be made to the Lung Association of Saskatchewan, 2308 Arlington Ave, Saskatoon, SK, S7J 3L3.  As per Mom's wish, the Funeral Mass and burial will take place in her native Komin, Dalmacija, Croatia.  Arrangements are entrusted to Moose Jaw Funeral Home, 268 Mulberry Lane.  James Murdock, Funeral Director 306-693-4550