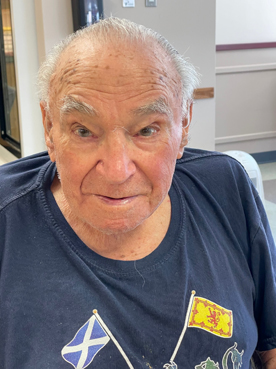 Eldred Edward Payne aged 93 years of Central Butte Sask. passed away Monday May 16, 2022. He'll be remembered by his lifelong nickname of "Scotty ". He was born September 14, 1928 on a farm in the Uren district. Scotty was predeceased by his wife, Marie (Avery); parents, Joseph and Martha; brothers: Wilf, Walter, Louis, Bill, and Gerry; sisters: Laurel, Esther, Irene, and Leona; step son, Wayne and step daughter, Bonnie.  He leaves to mourn his passing, his sister, Josephine; step son, Larry (Gladys); step daughter, Sharon; sisters in law, Lyla and Betty,  as well as numerous nephews and nieces and their families, also many good friends from across Canada. He was a much beloved member of Marie's family. 
After Scotty's schooling he went on to become an electrician. He and brother Gerry started "Scotty's Electric" in Central Butte. In the late 70's and 80's he decided to join a partnership in a fly in hunting and fishing lodge at Namur Lake in far north Alberta. He worked tireless to create the camp from scratch. He also obtained his trappers license and collected many kinds of furs. He was accompanied by his faithful pals and best friends Trapper and Lucky.
Scotty decided to move back to Central Butte to retire. He and soul mate Marie were married June 8, 1985. Not one to sit around Scotty took a job as ditchrider for Grainland Irrigation Project on Lake Diefenback. He and Marie moved their motor home and home built house boat to the lake in the summers. House boats "Scotty I and II" were his pride and joy. Oh the good times the couple had camping, fishing, and playing cards.
With Marie's health failing they remained in Central Butte. Many enjoyable evenings spent at the Payne's by family and friends. As Scotty's health also declined he moved into Iver Main a personal care home in Central Butte. Many thanks to the staff for his excellent care. He became a favourite resident.
Scotty has been cremated and a gathering of family and friends will be held in late summer to remember and celebrate his life.
Donations in Scotty's name may be made to Iver Main Care Home Box 550 Central Butte, Sask S0H OT0.  Arrangements are entrusted to Moose Jaw Funeral Home, 268 Mulberry Lane.  Michelle Ellis, Funeral Director 306-693-4550