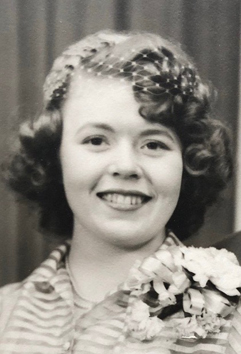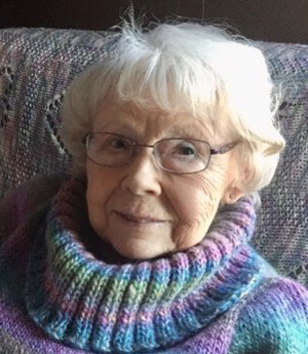 MARION AGNES PAULSON (née: Cockerell)
September 18th, 1934 ~ April 25th, 2022
Even strong girls get tired.  In the early morning hours of Monday, April 25th, 2022, in her favourite chair, in her favourite room, and in her home of 52 years, Marion relaxed and gratefully left on her last adventure.  Being a woman of great faith, she would have been anticipating her Father's embrace.
Marion was the eldest of 4 daughters born to Les and Inez Cockerell in Regina, SK.  She had fond memories of those years and she loved to drive us through her old neighbourhood, showing us her childhood home and including all the places that were a big part of her younger years – Connaught School and Library, homes of her friends, and how far she had to walk to find a good tobogganing hill.  Marion completed her high school education at Central Collegiate in Moose Jaw, SK.
Adventures as a young woman included hopping a train to Ontario to pick fruit for a summer and heading out to BC to be a nanny, where she developed a love for the mountains and the National Parks.
Married to Gord Paulson in 1954, they had seven children.  Although Marion was employed at various jobs in her life, she considered her seven children her main focus and greatest achievement.  She played the role of mother and father in a time when that was not common.  It certainly wasn't always easy, but she made it her priority.  
Marion encouraged education in her children and grandchildren, and she was for us the perfect example of a life-long learner.  She was an avid reader and CBC radio's biggest fan (is there any other station?).  She kept up on local and world events and loved a hearty political debate.
Marion loved to travel.  She visited her family, various places across Canada, and was able to treat herself to a few places that interested her – New York, New Orleans, the Grand Canyon, and San Francisco.  She even walked the Great Wall of China at the young age of 73 years.
A cancer diagnosis in 1989 and having a genetic heart condition which was physically challenging did not hamper Marion's determination to live a full and active life.  She maintained a lifetime of physical activity, sharing her love of biking and skating with her children and grandchildren, only hanging up her skates at 77 years after teaching her youngest grandson to skate.
Hands down, Marion's biggest passion was knitting.  To keep her occupied while sidelined with a leg injury at age 7, she was taught to knit, and with 80 years of knitting, had become a Knitter Extraordinaire.  Generous with her talent and always with her needles in hand, her countless projects were shared with family, friends, neighbours, and overseas missions – anyone who could use a warm pair of mitts, socks, sweater, or blanket.  Her hand knitted tablecloths are truly works of art which will be treasured by anyone blessed to receive one.
Marion spent her last day in her yard, enjoying the sun.  With her seeds ready on the kitchen table, she was out checking the garden anticipating planting for another year.  No doubt a rhubarb crop would be on her mind to fulfill the numerous requests she received for her renowned rhubarb pie.
She was predeceased by her parents; brothers-in-law, Barry Jorundson and Oliver Bastien; and nephew, Dylan Hoffman.  Marion will be dearly missed by her children: David (Mary) of Prince George, BC, Margaret (Stan) Fieber of Thorhild, AB, Sandra (Maurice) Couture of Moose Jaw, SK, Janet (George) Gregory of Chilliwack, BC, Heather (Bill) Hildebrandt of Grand Coulee, SK, Greg (Carla) of Prince George, BC, and Robin (Bob) Newans of Moose Jaw, SK.  She has been blessed with 24 grandchildren and 30 great grandchildren.  Marion is also survived by her 3 younger sisters: Edith Jorundson of Winnipeg, MB, Inez Hoffman of Paynton, SK and Janet Cockerell of Moose Jaw, SK.
"Wherever a beautiful soul has been,
there is a trail of beautiful memories."
A Celebration of Marion's Life will be held on Friday, May 6th, 2022 at 2:00 p.m. in St. Aiden Anglican Church, 124 1st Ave NE, Moose Jaw, SK.  Reverend Deacon Arleen Champion will officiate and interment will take place in Sunset Cemetery.  Those not able to attend may view the service virtually by going to https://youtu.be/pjI7XnZBrlY.  In lieu of flowers, donations in Marion's name may be made to the Moose Jaw Transition House, 125 Main St N, Moose Jaw, SK S6H 0V9.  Arrangements are entrusted to Moose Jaw Funeral Home, 268 Mulberry Lane.  Andrew Pratt Funeral Director 306-693-4550