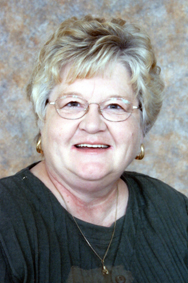 It is with broken hearts the family of Karen Paton announce her passing, surrounded by her family, on Thursday, March 25th, 2021.  Karen Ellen Lindell was born July 27th, 1949 to Lyla and Edwin Lindell in Central Butte, SK.  Karen attended Brownlee School and after graduation she attended the Reliance School of Commerce in Regina, SK.  She married Del Paton in 1968 and they were joined by their sons Darin (Kim) and Jason (Mayleen) in the following years. 
Karen began her career at CIBC in Moose Jaw.  In her 35+ years with CIBC, she won numerous awards for her achievement as a mortgage broker including multiple Annual Achiever trips to Mexico (closely cherished memories).  She was a part of branches in Regina, Thompson Lake, Manitoba, Port McNeil, BC, Port Hardy, BC, 15 Wing Moose Jaw, and two separate locations in Moose Jaw before her final position as Bank Manager in Moose Jaw.  When it came time to move on, Karen retired from CIBC on Friday and began a position with Leipert Financial on Monday.  She was an Independent Mortgage Specialist and helping people to achieve their dream of owning a home was of utmost importance to her.  Many, many documents were signed on her home's kitchen table – because every client was a new friend.  Karen was with Leipert Financial until her final retirement, after retiring and returning more than once in the years between.  Helping people the way she knew best had always called her back. 
Karen enjoyed people and spending time with family and friends was her favourite pastime.  In 2018, Karen and Del celebrated their 50th anniversary with a party at the Rowletta Civic Centre – the location of their original wedding reception in 1968.  Months of planning created a beautiful, very special evening filled with laughter, music, and memories – both fond old ones relived, and cherished new ones made. 
She enjoyed gardening, cards, telling stories and sitting on the deck having a drink with whoever stopped by.  Traveling with Del and their friends was another of her favourite things.  Trips to Hawaii, Nashville, Florida, Mexico, Arizona, Las Vegas and BC were some of her favourite stories to relive.  Every story Karen told was vibrant and detailed, like she was living the fun all over again.  She had a group of friends fondly known as the "Bunko Broads" who made semi-annual trips to Vegas for many years.
Karen was blessed with 3 granddaughters: Kayla (Lee), Taylor (Alex) and Kelsey; as well as 3 great-grandchildren: Brooklin, Ty and Cal.  Being Grandma was one of Karen's greatest joys.  Even the numerous dogs were all spoiled as beloved grand- and great-grandchildren. 
She was predeceased by her parents, Lyla and Edwin; mother-in-law, Lydia; brothers-in-law, Mike and Gerry; sister-in-law, Bonnie; and nephew Jay.  In addition to the family already mentioned, Karen will be lovingly remembered by her siblings, Don (Jean) and Sherry (Randy); sisters-in-law, Carol and Lynn; as well as numerous nieces, nephews and their families.  
A few special and heartfelt thank yous to all of the doctors, nurses and healthcare staff who cared for Karen in the last few years – specifically including the Allan Blair Cancer Centre and the Home Care/Palliative Care nurses of the Dr. F.H. Wigmore Regional Hospital, as well as the staff of Fysh's Pharmasave in Moose Jaw, all of whom went above and beyond for Karen.
Due to Covid-19 restrictions, a Private Family Service will be held to honour Karen.  Friends and Family are invited to view the service virtually on Wednesday, March 31st, 2021 at 1:00 p.m. by going to www.moosejawfuneralhome.com/webcast/.  We hope to have a public celebration of her life at a later date with everyone who wishes to attend.  In lieu of flowers, donations in Karen's name may be made to the Allan Blair Cancer Centre c/o Pasqua Hospital, 4101 Dewdney Ave, Regina, SK S4T 7T1.  Arrangements are entrusted to Moose Jaw Funeral Home, 268 Mulberry Lane.  Gary McDowell, Funeral Director 306-693-4550