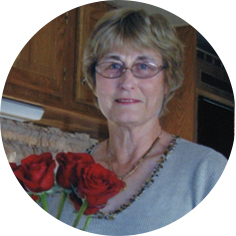 Helen Frieda Parker (née: Prang)
March 11th, 1941 – January 3rd, 2021
Helen Frieda Parker, aged 79 years of Moose Jaw, SK passed away on Sunday, January 3rd, 2021.  Helen was born on the Prang Homestead outside of Herbert, Saskatchewan.  She told us that she was born on March 8th, but her dad did not register the birth until March 11th, so March 11th was on the certificate.  Helen always liked to say that she had reason to celebrate two birthdays every year.
Following graduation from Herbert High School, Helen was accepted into the X-ray Technician position at Swift Current Hospital.  She worked as an X-ray Technician for most of the next 30 plus years in Swift Current and Moose Jaw, taking a break from this vocation to raise her three children.
Helen met Jack Parker on a blind date while in Swift Current.  They were married in 1961 and moved to Edmonton where Bobby was born.  They returned to Swift Current where Kimball arrived, moving to Moose Jaw in 1966 where they remained.  Baby James arrived in 1967.
Helen was diligent at whatever she turned her energies to, whether it be quilting, gardening, pottery, or painting.  Some of her art is legendary for its ability to spark discussion "What is it?".  The elephant that held peanuts was a particular favourite.
Helen loved Prang reunions and catching up with family.  She relished hosting friends and family, especially during drop in visits.  It got to the point that, whenever she would bake an apple pie, we used to laugh and say that Walter was bound to show up soon.  Which he did.  And often.
Helen placed a great value on education.  She worked hard to encourage and support her three boys through university to the completion of their degrees.
Helen had a sharp mind. We visited her workplace in the hospital and marvelled at her ability to master complex, powerful x-ray equipment that hummed like a doomsday machine.  She did not, however, have an answer as to why our VCR at home kept flashing 12:00.  We agree that Mom would laugh at that.  Because she did!  She loved a good laugh and was more than capable of laughing at herself.  While on a trip East in 1981, we stopped at a roadside turnout for ice cream.  We were going to visit Niagara Falls.  The people at the next table were talking about it.  Jack said, "Those people are going to the Falls too".  Helen: "What, they all have false teeth?"  We tripped on that for years.  When she smiled, her joy was real and infectious.
Thanks to scrupulous money management, Helen and Jack were able to retire early, and enjoyed their retirement together.  They went on memorable trips through North America and Europe.  They spent a number of winters in a retirement community near Palm Springs.  Helen loved to travel, and was more than happy to let Jack do most of the driving.  Although not a fan of driving a manual transmission, Helen supported Jack in his lifelong hobby of restoring and driving vintage cars.  She was a great co-pilot during club runs and vacations taken in the old cars. 
Helen became a Christian at a church service in 1973, coming forward only after praying that God would have someone else go up first.  Someone did, and Helen followed.  She grew in her faith and was an active participant in the local church.  It was a familiar sight to see Helen on the couch in the early morning, reading her Bible and praying.  One of her favourite TV ministries was Tribal Trails, which she found to be very inspirational.
After a long battle with illness, Helen was received peacefully into the presence of the Lord on January 3rd, 2021.  She was predeceased by her parents, August and Tina Prang; siblings: Henry, Hilda, Dorothy, Gus, and Harvey.  Helen is survived by her husband, Jack; sons: Bob, Kimball and James; grandchildren: Warren, Rachel, Justin, Sarah and Joshua; and siblings: Hazel, Harry, Margaret, Betty, John, Walter and Donna.
For those of us that remain,
her memory burns bright and always will.
A Time of Visitation will be held on Friday, January 8th, 2021 from 7:00 to 8:00 p.m. in Moose Jaw Funeral Home.  A Graveside Service will be held on Saturday, January 9th, 2021 at 1:00 p.m. at Herbert Cemetery, Herbert, Saskatchewan with Pastor Lincoln Vellacott officiating.  Covid-19 precautions will be required and observed at both the visitation and graveside service.  In lieu of flowers, donations are encouraged to be made to Tribal Trails, in care of Northern Canadian Evangelical Mission, P.O Box 3030, Prince Albert, SK S6V 7V4.  Arrangements are entrusted to Moose Jaw Funeral Home, 268 Mulberry Lane.  Gary McDowell, Funeral Director 306-693-4550