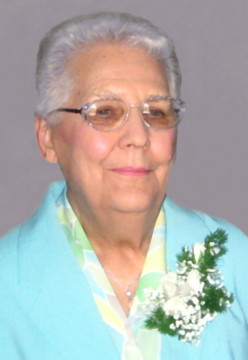 September 11th, 1927 – November 9th, 2023
Amelia "Millie" Pahlke aged 96 years of Moose Jaw, SK, passed away on Thursday, November 9th, 2023 after a brief illness.  She was predeceased by her husband, Ed; parents, Alex and Dolly Deibert; in-laws, Fred and Tina Pahlke; brothers-in-law: Abe and Jim Pahlke, and Dan Lipinski; sisters-in-law: Ann and Elsie Pahlke, and Margret Messenger.  Millie is survived by her daughter, Debbie-Ann (John); son, Edward (Cheryl); grandsons: Matt (Shannon, great-granddaughter Harper), AJ (JC), Jonathan, and Ryan; special nephew and niece, Greg and Bev Diebert; numerous nieces, nephews, great-nieces, great-nephews, great-great-nieces, and great-great-nephews; as well as many friends and neighbours.  
Millie grew up in the Morse/Herbert, SK area on several farms.  She moved to Regina, SK where she met her husband of 59 years, Edwin Pahlke.  They lived in many locations across Canada and Europe during Ed's 34 years of military service, including Chatham New Brunswick, Cold Lake, Alberta, and Zweibrucken, Germany.  They decided to retire in Moose Jaw, in the province they loved so dearly, living there for close to 40 years.
Thank you to the staff at the Dr. F.H. Wigmore Regional Hospital, West Park Crossing, and Pioneer Lodge Memory Lane.  
In keeping with Millie's wishes, a Private Family Service will be held, with interment to take place at Rosedale Cemetery.  In lieu of flowers, donations in Millie's name may be made to the Canadian Cancer Society, 200-325 Manning Road NE, Calgary, AB T2E 2P5 or the Heart and Stroke Foundation of Saskatchewan, 100-119 14 Street NW, Calgary, AB T2N 1Z6.  Arrangements are entrusted to Moose Jaw Funeral Home, 268 Mulberry Lane.  Andrew Pratt, Funeral Director 306-693-4550