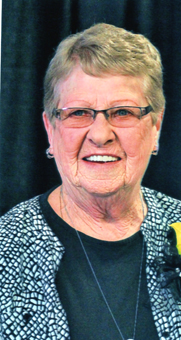 With heavy hearts, we announce the death of Clarice Marie Oxley, a beloved wife, mother, grandmother and great grandmother at the age of 82 on Tuesday, August 24th, 2021. She passed away due to heart complications with her family at her side. She was just a week away from a potential new lease on life through a scheduled medical procedure. Although she was tough as nails in life, her heart was in just too much distress to hold on. 
Clarice was born in Kincaid, Saskatchewan on February 20th, 1939. She later moved to Lafleche where she grew up on the farm and eventually began raising her own family. She had five children whom she worked hard at keeping in line and made sure to create a strong family circle. In 1969 she moved herself and the kids to Moose Jaw where they began their lives together, and eventually purchasing the family home on Oxford St. West. In 1981 she met James Oxley, whom she later married on May 11th, 1985. They began their lives together and discovered their new found interests that they would enjoy together until her passing. 
Clarice enjoyed visiting with family, countryside drives with her husband, Jim, her weekly trips to Costco, and of course many trips out to Dog River along with testing her luck out every now and then at the 'big house'. Clarice had a long fulfilling career in health care. She became a certified ECG technician, working for 48 years providing top notch services in the Moose Jaw Union Hospital before her retirement in 2004. Once Clarice retired, she put all of her focus onto her family; she and Jim travelled with the grandchildren to Disneyland, Mexico, and province to province, all in a motorhome to enjoy and take in all sights and attractions. She truly wanted them to make memories that would last forever. 
The pride and love that GG had for her great grandchildren gave her and Papa Jim a new purpose in life, providing them with exciting summer camping adventures, personalized gifts for all occasions, continuous support by attending every activity they were involved in and of course taught them valuable skills that will carry on in their future lives. GG always said, 'There is a place for everything and everything in its place'. 
The imprint that will be left on all of our hearts will never fade as our experiences have been all personal and meaningful as we have grown in our own lives. We will all remember your excessive obsession with cleaning, along with your shares in Spray Nine cleaning supplies. 
There won't ever be another like you. Thank you for everything you have done for all of us. Debbie and Judy Lynn have been patiently waiting for you mom. 
Clarice was predeceased by; daughters Debbie and Judy Lynn, her parents, Beatrice and Bill Longworth, brothers Harry and Mel, and other extended family. She will forever be missed by her husband of 36 years, James Oxley, daughter Lorie (Danny), son Bill (Angie), and daughter Jeannie. Grandchildren; Jennifer (Jay), Jasmine (Steve), Stacie (Matt), Brittanie (Ty), Calvin, Casey (Bevin) and her great grandchildren; Cash, Frankie, Krosby, Maguire, Taylor and Lily. 
A Private Family graveside service will be held on Tuesday, August 31st, 2021, in the Rosedale Cemetery. In lieu of flowers, donations in Clarice's name may be made to the Heart and Stroke Foundation of Sask. Unit 26 – 1738 Quebec Avenue Saskatoon, SK S7K 1V9
Arrangements are entrusted to Moose Jaw Funeral Home, 268 Mulberry Lane.  Gary McDowell, Funeral Director 306-693-4550