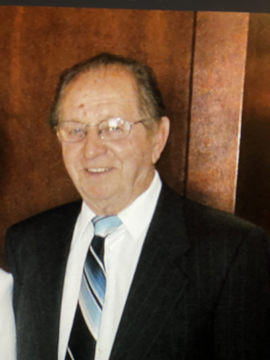 1931-2022
The family of John Olynik wishes to announce his passing on Thursday October 27, 2022. John was predeceased by his father Peter, Mother Elsie, three brothers, three sisters, two sisters-in-law and two brothers-in-law. He is survived by one brother Michael (Vivian), two sisters-in-law Estelle and Jill, wife Patricia (McLelland), daughter Tracy, son in law Peter (Jensen), adored grandchildren Jager and Trinity and several very special nieces and nephews.
He loved unconditionally, especially his family and children; they always held a special place in his heart. First his nieces and nephews, then his one and only daughter and more recently his two grandchildren could not have asked for a more sincere role model of kindness and generosity.  He enjoyed pulling his trailer and the family across North America searching out campgrounds with the best pool for hours of fun together. Joy, also came from anything sweet for Johnny. He would never miss an opportunity to hit up a candy store (jujubes were his favorite) or enjoy dessert, which had to include ice cream, somehow. Even after the disease took over a large part of who he was, it was sweets that still made him happiest. Listening to music also gave him pleasure. Although it was his whistle that always told you he was near, then his big smile, that will never be forgotten. Closure has occurred after a long struggle with Alzheimer's. He was a man first, who lived his life with compassion and kindness totally separate of the disease. 
He served the community of Moose Jaw for over 60 years as a Flooring Installer. Going into the homes of Moose Jaw residents was his passion. For John it was a labor of love, rather than just a job. Getting down on his knees to install floors allowed him to enjoy another fondness which was animals, particularly dogs.  He greeted and played with dogs constantly and would often be found cuddled up with one of his own dogs at home watching sports, which was another passion. For many years he attended Moose Jaw Warriors games and enjoyed cheering on his team. John also played many sports throughout his life but was a natural at bowling in his early years and golf later in his life.  
John also enjoyed taking pictures.  In fact, it was through his slides, you saw the world through his lens. The family would never miss an opportunity to gather around him to share memories on the big screen. He saw joy and kindness in everyone and everything.  He was an incredibly kind man whose mantra was… smile and the world will smile back… which I have aspired to and now see his grandchildren model.  
The family wish to Thank ALL the staff and volunteers at Providence Place for their loving care the past 12 years.
Thank you also to the Moose Jaw Funeral Home.
A Private Graveside Service will take place at a later date.
Arrangements are entrusted to Moose Jaw Funeral Home, 268 Mulberry Lane.  Michelle Ellis, Funeral Director 306-693-4550