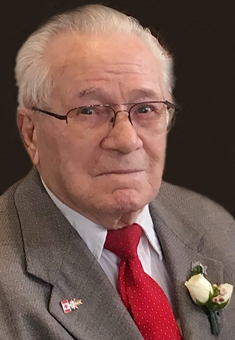 It is with saddened but joyous hearts that we announce the passing of Ronald William Olliver, aged 101 years of Moose Jaw, SK on Monday, February 28th, 2022.  We know that it was a happy reunion in Heaven.  
Ron was born in England, the 3rd child of George and Daisy Olliver.  He immigrated to Canada with his family in 1922 on the maiden voyage of the Montrose.  Ron, being a busy toddler, managed to make his way to the deck rails and slipped, almost falling off the ship.  His father managed to grab him by the seat of his pants and pull him back on.  
Ron worked at various jobs in Ontario, British Columbia, and Saskatchewan until he married Isabel Kress in 1951 and started farming full time.  Times were tough so in November of 1954, with 50 cents in his pocket, Ron began his 30 plus year career working for the CP Rail.  His plan was to work there "just until he got on his feet".  He earned 88 cents an hour and had to purchase an $80.00 Waltham pocket watch, as accurate timing was essential with train schedules.  CP Rail deducted a certain amount from each cheque until the watch was paid for.  Ron used that watch for all of his years with CP Rail.  At the time of his passing at 101 years, Ron had been retired for six years longer than he worked!  Not many of us are afforded that privilege!
Ron worked very hard and did not have much time for hobbies, but he did love a good game of horse shoes at our many family reunions, dice and cards.  He was still giving us a good whipping in crib up until this past summer.  During his retirement, many good times were spent at the Cosmos Center in Moose Jaw playing shuffleboard with his many friends.
He was predeceased by his parents, George and Daisy; brothers, George (Betty) Olliver and Stanley (Gwen) Olliver; sisters: Gladys (John Tiedeman), Doris (Dennis) McLean, Florence (Carl) Todd, and Beatrice (Wallace) Harden; and sister-in-law, Lucille Olliver.  Ron is survived by his wife of 70 years, Isabel; daughters: Patricia (Clyde) Olson, Carol (Wayne) Barrett, Linda (Fred Sloan), JoAnn (Cameron) Wilk, and Karen (Don) Blake; 15 grandchildren, 24 great-grandchildren (soon to be 25), and 12 step-great-grandchildren; brother, Thomas Olliver; as well as many nieces and nephews.  
A Celebration of Ron's Life will be held on Saturday, April 2nd, 2022 at 11:00 a.m. in Moose Jaw Funeral Home with luncheon to follow.  Hazel Blake will officiate and interment will take place at Sunset Cemetery.  Those not able to attend are invited to watch the service virtually by going to www.moosejawfuneralhome.com/webcast/.  As an expression of sympathy, donations in Ron's name may be made to Jim Pattison's Children Hospital, 103 Hospital Dr, Saskatoon, SK S7N 0W8.  Arrangements are entrusted to Moose Jaw Funeral Home, 268 Mulberry Lane.  Gary McDowell, Funeral Director 306-693-4550