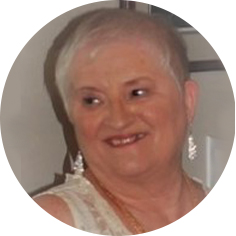 Margaret (Marg) Anna Christina Olfert
Margaret (Marg) Anna Christina Olfert passed away peacefully in her Abbotsford, BC home on Saturday, January 23rd, 2021 at the age of 74 years, with her beloved husband Ed at her side. 
Marg was born in Assiniboia, SK on May 26th, 1946 to Archie and Elaine Calibaba.  Before eight years of age, she was hospitalized often as she battled rheumatic fever and associated complications.  At the age of eight, she was placed into the foster care system after her father passed away and her mother was no longer able to care for her.  Leslie and Mary Walter of Moose Jaw, SK lovingly welcomed her into their home and family and in time chose to raise her as their daughter on a farm just north of the city. 
In school Marg enjoyed playing extra-curricular sports and was very proud that despite her difficulty with school, her hard work resulted in the academic standing necessary to enroll in nurses training. 
By God's design, she met a young man while working in the summer of 1966 at Valley View Centre named Edward and after a brief courtship, they were married on August 19th, 1967.  A little over a year later, she set her pursuit of a career aside to focus on her dream of being a full-time wife and mother. 
A woman of faith having made the personal decision to accept Jesus as her Lord and Saviour, Marg spent the next thirty years raising four sons and was actively engaged in the life of her family, church and community through opening her home to others and involving herself in endeavours such as President of the Home and School Association, President of the local Christian Women's Club Chapter, speaker for Christian Women's Club in Saskatchewan and the U.S., Sunday School Superintendent and volunteer cook at summer camps.  She also went back to school to get her cosmetology designation and re-entered the workforce as a hairdresser. 
In June 1997, Marg experienced a debilitating stroke, but through grit, determination and courage along with the support of Ed, she was able to recover enough to move home and began the next chapter in her life. 
Though her limitations could have killed her spirit, instead Marg chose to carve out a life full of much meaning and joy.  The consummate extravert, she welcomed the opportunity to spend time with people in person or by phone and during these times loved to tease, joke and pester.  Once she befriended someone she was a loyal friend for life.  She often joked that being her friend was a life sentence. 
Marg also enjoyed praying for others, working with Ed to meet the needs of others, doing puzzles, shopping, collecting dolls and stuffed animals, cheering for her beloved Saskatchewan Roughriders, enjoying the rain, travelling, and expressing her love and care for others through hugs and envelopes adorned with stickers sealing cards she faithfully sent to recognize occasions throughout the year. 
In time Marg began to pray God would take her to her heavenly home so she could escape the constant pain which impacted her quality of life, in order to experience the powerful and imperishable body promised to her in the Bible.  Her prayers have been answered and she will be deeply missed by many and we look forward to the day when we will be able to run and dance with her. 
She was predeceased by her parents, Leslie and Mary Walter; birth-parents, Archie and Elaine Calibaba; as well as siblings: Alice, Marie, Eleanor, Pearl, Helen, Sid, Art, Cal, Nick and Andrew.  
Mourning the loss of a wife, mother and grandmother are: her loving, caring and faithful husband of 53 years, Edward; sons, daughters-in-law and grandchildren: Ivan, Kimberley, Everett, Peyton and Amy Olfert of Saskatoon, SK; Vince, Lynette, Alex and Tyler Olfert of Tsawwassen, BC; Chris, Alissa, Leila, Nash, Odin and Finn Olfert of Moose Jaw, SK; Aaron and Trena Olfert of Calgary, AB. 
Mourning the loss of a sister are her siblings: Carol (Dennis) Evans of Moose Jaw, SK; Ken (Vicki) Walter of Saskatoon, SK; Barry (Tenny) Walter of Saskatoon, SK, Joan Murray of Leland, North Carolina; Brent (Anita) Walter of Panama;  Lillian Sentes of Regina, SK; Debbie Moore of Victoria, BC; and Paul (Muriel) Calibaba of Kamloops, BC.  
Also mourning the loss are her in-laws: Lawrence and Agnes Olfert of Drumheller, AB; Eleanor and Ken Schrag of East End, SK; Irwin and Jackie Olfert of Lethbridge, AB; Mike and Betty Olfert of Okotoks, AB; Linda Olfert of Atlanta, Georgia; as well are her numerous nieces and nephews who live across Canada and the United States. 
Due to COVID-19 restrictions, a Memorial Service and Interment will be held in Moose Jaw, SK at a later date and details will be provided at that time. 
In lieu of flowers, donations in Marg's name may be made to Child Evangelism Fellowship of Saskatchewan, Box 236, Sedley, SK S0G 4K0. 
Arrangements are entrusted to Moose Jaw Funeral Home, 268 Mulberry Lane.  James Murdock, Funeral Director 306-693-4550