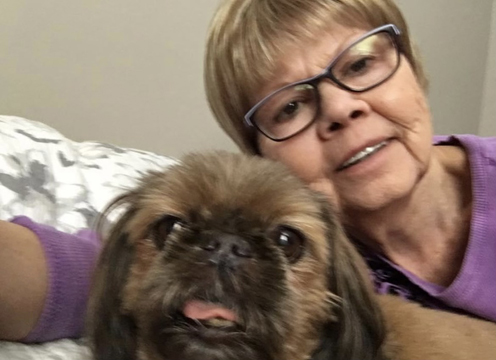 On May 2, 1945, in Wynyard, SK, born to Bergthor and Olive (McInness) Paulson, we are convinced Peggy Lynn Paulson came into the world with a kind smile on her face. She always told us that she had been a shy little girl who hid behind her mom's apron. It was easy to picture, given her quiet and gentle nature. At the same time, she was a true storyteller at heart, telling us about going to the theatre with her friends after school, traveling across the Prairies by train (her dad worked as a train conductor), and stories about her relatives and friends that were so colourful, we swore she was making it up half the time… but she wasn't; she was just that good at recalling every single detail. That attention to detail carried through every aspect of Peggy's life. She didn't just remember your birthday, she remembered your favourite treat, colour, scent, snack, dinner, flower, sport, cake, wrapping paper—all the little things that she could use to make you feel special and cared for. To top that off, she had a habit of taping money to things whenever possible to "help with gas" or "for spending money". Honestly, we've all found $50 taped to soup cans after coming home from visiting her. 
Peggy graduated from Wynyard Composite High and went on to complete a stenography course. Her career moved from Workers Compensation to becoming a management secretary at Providence Hospital, a secretary and right-hand-gal for the Moose Jaw Diamond Dogs baseball team, the manager of buying firm IDL and finally the manager of the Casino Moose Jaw bank until she retired. Regardless of any position she held, let's just say everyone knew this woman could always be counted on to get the job done, and done well. 
In 1966, Peggy married Bob Olafson in Moose Jaw and they welcomed sons Cory Stephen in June of 1970, and Kelly Paul in November of 1972. The boys grew up in the house Bob built on Pascoe Drive, where Peggy proudly kept her home, garden and yard looking beautiful. As luck would have it, Peggy's eventual next-door neighbour, Dianne, would become her very best friend. Over the years, Peggy and Bob managed to take lots of trips together, often for ball, and then to enjoy the sun in later years. They made their way to Florida, Las Vegas, Hawaii, the Dominican Republic, and Mexico. Her family meant everything to her, and it was always evident in the way she looked after them.
Peggy parked her career for about a decade when they boys were little, choosing to stay home and raise them with an iron fist. Just kidding, although she was known to throw out a "wait til your father gets home" while waving her wooden spoon very non-threateningly. The truth is, she showered as much love as humanly possible on her boys, giving them whatever their hearts desired (without spoiling them), feeding them and their friends everything she could cook up when their teenaged stomachs seemed bottomless, joining them and Bob for every ball trip, packing lunches, helping with homework, shopping for cool things for them on trips to the States, baking cookies, and doing everything in her power to ensure they were healthy, happy and loved. She was always so proud of Kelly and Cory, from the moment she had them to the moment she had to leave them. 
And every bit of the same thing can be said about Peggy with her granddaughters. They received love and generosity from her in countless ways and they will never forget the way she made them feel. She lives on in each of them in some little way… from big brown eyes, a kind heart, or a love for animals, to a good sense of humour, a little turned up nose or wavy hair. Something else she's left behind is her legacy of all things being fair and even. Time, money, gifts, showing up to watch sports—whatever she gave to one, she gave equally to the others. If one granddaughter was given something that cost $40 and someone else's gift was only $35, there would be a $5 bill added in. This began when her boys were little and still applied as they became adults with their own families. There was no chance she was going to leave anyone feeling like they got the short end of the stick. 
Along with pouring her heart into her family and her work ethic into her career, Peggy always made time to help her community. She volunteered at so many events, selling tickets and raffles or donating gift baskets she'd made herself. Her beautiful Christmas decorations, lighted cubes, wreaths, and lampposts were in high demand every season. She made a big deal of every occasion, ensuring kids knew they could count on her for the best Halloween treats, Easter baskets and Valentine's chocolates. Her creative side was also fuelled by her love for singing. Peggy was involved in choir from a young age and continued to sing as long as she could as part of the Cantabile Connection. It was always hard to believe that low, deep voice was coming from such a tiny, soft-spoken woman, and she had every reason to be very proud of her talent. 
While she showed a great deal of love for the people in her life, it's safe to say that the animals in Peggy's life also held a special place. Mopsy, Kessa, Miko, Gunnar, Mylo, Sally, Molly, Peanut, Fritz, Jack, Bug, Bosley… most of them are with her now, making room for themselves on her lap. 
Much like Peggy's singing voice would catch you off guard, so did the amount of fight and determination she held within her small stature. She battled the past 7-plus years with everything she had, staying positive and motivated to do whatever it took. Doctors who met her for the first time could not believe she was in her 5th, 6th or 7th year of chemotherapy. It did not add up. How could this smiling, composed lady possibly be in the midst of a battle like that? She never let it get the best of her, always choosing to look stylish when she needed to go out, sparkly earrings on, and a light spritz of her Opium perfume. Many people who met her had no idea what she was going through. However, despite the war she waged against it, cancer has sadly taken its toll. 
On November 5, 2022, Peggy passed away peacefully in the Dr. F. H. Wigmore Regional Hospital in Moose Jaw with her loving husband and sons by her side. While we know she is in a better place, with a healthy body and mind, surrounded by the loved ones she's been missing, we are incredibly sad to lose her. Truthfully, it's difficult to stop writing about her here, as she deserves endless pages of words from each of us.
Peggy is survived by her husband Robert (Bob) Olafson, her sons, Cory Olafson of Moose Jaw, and Kelly (Dana) Olafson of Saskatoon, along with the lights of her life, her beautiful granddaughters Grace, Sophie, Aspen, Piper and Ainsley. Peggy is also survived by her older sister, Patricia (Thor) Bjornson of Wynyard, her niece Naiomi (Bob) Goulet and nephew Greg (Marlys) Bjornson, along with their families and many good friends who helped fill her heart with happiness and love. She has been reunited with her parents and her nephew, Jeff Bjornson.
A Celebration of Peggy's Life will be held on Tuesday, May 2nd, 2023 from 2:00 – 4:00 p.m. at the Crushed Can Sports Bar, 82 Manitoba St W, Moose Jaw, SK.
In lieu of flowers for Peggy and her family, please consider making a donation in her name to the Cancer Foundation of Saskatchewan #200-4545 Parliament Avenue Regina, SK S4W 0G3 or to the The Moose Jaw Humane Society Box 1658 Station Main Moose Jaw, SK S6H 7K7.  
Arrangements are entrusted to Moose Jaw Funeral Home, 268 Mulberry Lane.  Michelle Ellis, Funeral Director 306-693-4550