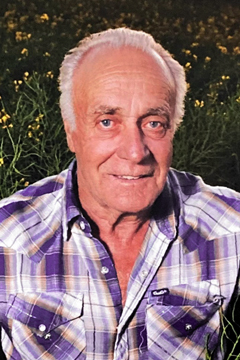 David Frederick O'Bright aged 78 years of Moose Jaw, SK, passed away Monday, February 6th, 2023 surrounded by family.  Dave was born June 24th, 1944 in Moose Jaw and was the youngest child of William and Kathleen (née Lezetc) O'Bright.  Dave married Patricia Doyle in 1962 and together they had four children.  After Pat's passing Dave married Jane Murdoch.
He was predeceased by his first wife, Pat; sisters, Dorothy Roszell and Mary Roach; brother, Steve O'Bright; brothers-in-law, Mel Roszell and Dennis Doyle; sisters-in-law: Mabel Fowler, Connie O'Bright, and Shirley Doyle; as well as Jane's brother Bob and his wife Helen Murdoch.  Dave is survived by his second wife, Jane Murdoch; his children: Sherry (Stacy) Bushko, Lynn O'Bright (Paul Stapor), Dave O'Bright (Jodie Hendry), and Mike O'Bright; Jane's children, Christie Bjolverud (Dale McEwen) and Rob (Leslie) Bjolverud; his grandchildren and great-grandchildren; brother-in-law, Bill Roach; as well as numerous nieces and nephews.  
Dave was a very hard worker and believed that any job worth doing was worth doing well.  He spent several years working with the City of Moose Jaw, and Cypress Paving, as well as volunteering his time for the betterment of the Village of North Grove.  He was proud of every project that he completed.  Dave made many friendships through his hard work, both on the job and volunteering. 
A Time of Fellowship will be held on Tuesday, February 14th, 2023 at 11:30 a.m. in the Harvey Room at Moose Jaw Funeral Home.  As an expression of sympathy, donations in Dave's name may be made to Heartland Hospice Moose Jaw, Box 334, Moose Jaw, SK S6H 4N9.  Arrangements are entrusted to Moose Jaw Funeral Home, 268 Mulberry Lane.  Michelle Ellis, Funeral Director 306-693-4550