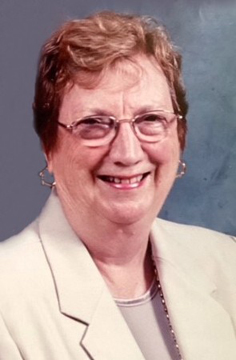 Audoreen Muriel Nuhn (née: Bourne) aged 89 years of Moose Jaw, SK, passed away on Tuesday, September 19th, 2023.  Wife of Herman George Nuhn (passed away April 2nd, 2023), and daughter of John Bourne and Gladys Jane (née: Martin), Audoreen (Audie) was born January 31st, 1934 and grew up with her 2 younger sisters, Phyllis and Marilyn in Portage La Prairie, MB.  Her parents gave her that very unique first name after hearing a neighbour's child saying "Aw, Doreen" to her sister; Audie took great delight in sharing the charming story!  
A social butterfly who loved to dance, Audie broke many hearts in Portage before she decided to venture forth in the world, working on the ferry on Lake Champlain in New York before eventually meeting up with her sister Phyllis in North Bay, ON and working as a receptionist at the Air Base.  There she was courted by a shy but charming airman – Herman Nuhn – who quickly realized she was the catch of his lifetime, and they were married within 4 months on December 29th, 1956, beginning a 66 year marriage and partnership that ended only with his passing earlier this year.  Audie and her sisters (who also married airmen, Jack and Gerry) were very close and the 6 of them had many great times and adventures together.  She kept the home while Herman travelled with the Air Force, raising her family on air bases in Portage, Ottawa, Saskatoon, and Rivers, MB, finally settling in Moose Jaw in 1970 where, once her children were self-sufficient, she began working at Sears and then Sask Agriculture, as an executive secretary.  She and Herman were true partners and after they retired, they travelled extensively in Canada and the US, exploring casinos and ballparks around the continent, and making many, many friends along the way.
When Audie needed the care of Providence Place in Moose Jaw, Herman visited her daily for several years until he was able to join her there 4 months before his passing.  
Audie is survived by her sister, Marilyn (Jack); children: Karen, Darla Mayer (John), and Derek; grandchildren: Jared, Joel (Virginia), Jordan, Brett, Krista, and Tania; and great-grandson, Oliver.
The Funeral Service will be held on Wednesday, September 27th, 2023 at 1:30 p.m. in Moose Jaw Funeral Home.  Pastor Marvin Seaborg will officiate and interment will follow at the Moose Jaw Funeral Home Columbarium.  Those not able to attend may view the service virtually by going to www.moosejawfuneralhome.com/webcast/.  As an expression of sympathy, donations in Audoreen's name may be made to the Cancer Foundation of Saskatchewan, Suite 200, 4545 Parliament Ave, Regina, SK S4W 0G3.  Arrangements are entrusted to Moose Jaw Funeral Home, 268 Mulberry Lane.  Michelle Ellis Funeral Director 306-693-4550