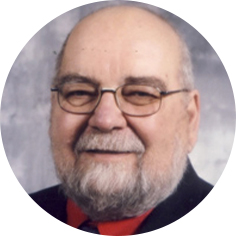 It is with great sadness that we announce the passing of Reg on Friday, February 22, 2008.  Reg was born in Regina in 1940 and was predeceased by his parents, Mary & John Nieszner, sisters Betty Oxman and Margaret Slinn.
Reg married his high school sweetheart, Sheila (LaFleur) in 1961.  They raised three children:  Shayne (Holly) Nieszner, Michelle (Frank) Montpetit, Bev (Shane) Hart.  They were blessed with 8 wonderful grandchildren:  Cody, Ryan, Curtis, Todd, Stephanie, Hayley, Audray-Anne and Nathalie. Survived by brother Roy; sisters Joan and Dianne; Uncles & Aunts; and numerous nieces, nephews, cousins, and special friends.  In 1968 Reg and his family moved to Moose Jaw where he began his career at CHRE Television and CHAB Radio.  After leaving the radio station, Reg continued his love of meeting and working with people through his various jobs at the Regina Leader Post, ABC Driving School, Moosomin School Division and SGI, retiring in November of 2005 as a driver examiner.   During his working career he had the opportunity to meet many dignitaries and special people including Queen Elizabeth II, Prince Philip, Prince Edward, Prime Minister Diefenbaker, Prime Minister Trudeau.
Reg's love of cars began with his membership in the Regina Sports Car Club then continued on with the Moose Jaw Stock Car Club and instructing driver education.   He also enjoyed attending many of his grandchildren's activities including hockey, soccer, swimming, dancing, theatrical and musical events.  Reg was passionate about the city of Moose Jaw, demonstrated by his involvement with many organizations in the community.  He was a true Ambassador for the city.  His most recent involvement with the Knights of Columbus Council #9760 took him on a journey to Sierra Leone to complete a mission for the Wheelchair Foundation of Canada distributing wheelchairs to the disabled.
There will be a Celebration of Reg's Life with prayers on Tuesday, February 26th, 2008 at 7:00 pm and a Funeral Mass on Wednesday, February 27th at 1:30 p.m. at the Church of Our Lady in Moose Jaw, 566 Vaughan Street.  Interment at a later date.  In lieu of flowers, donations to the Canadian Cancer Society or the Wheelchair Foundation Canada would be greatly appreciated.