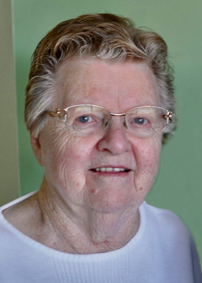 Joan Mavis Nicholson, born in Central Butte, SK on August 17th, 1932 to Warren Fnevery "Sam" Cave and Kate (Wilkins) Cave, passed away on Friday, March 26th, 2021 in Herbert, Saskatchewan.
She was predeceased by her parents, Sam and Kit Cave; husband, Delwin "Shorty" Nicholson; siblings: Leonard (Flossie), Stanley "Buck" (Sylvia "Mick"), Betty (Jack), Daphne (Henry) and Donald "Pro" (Judy); daughter, Theresa Lynn; sons, Timothy John and Sheldon James; as well as special friend, Reid McCall.
Mavis is survived by her sons, Warren (Robyn) and Blair (Shannan McEwen); grandchildren: Cheryl Nicholson, Adria Austin (Bill Wilder), Colin (Angie) Nicholson, Bryce Nicholson, Glenn Nicholson, Sean Nicholson and Calvin Dustyhorn; great-grandchildren: Jordan Austin, Taylor Austin, Macy, Aubrey and Emery Nicholson; and one great-great grandchild on the way.
Mavis' early married years were spent in Bridgeford on the farm, where she planted a large vegetable garden, helped with farm work and raised five children.  In 1971 she and Shorty sold the farm in Bridgeford and moved to Victoria, BC where Shorty worked for BC Ferries.  Sadly, Shorty passed in 1974 at the age of 47 years.  So Mavis, ever the pragmatist, called her sister Daphne Johnson and said "Find a house for me in Central Butte, I'm coming home".  She bought the house on Butte Street sight unseen on Daphne's word and lived there until 2017 when she moved into Golden Grove.
Tragedy struck in 1979 with the loss of her daughter Theresa in an automobile accident.  Mavis bravely faced the future with three children still at home.  She worked at both the IGA in Central Butte and at Regency Manor.  She retired from Regency Manor in 1997.  In her retirement, she loved bus trips and travelling with good friends Bob and Sandra Yonge, Irene, Elda, Gwen and Camilla.  She lost her son Sheldon to an aneurysm in 2012, and son Tim to cancer in 2017.  She was a strong woman and kept moving forward.
Mavis was the quiet strength and matriarch of the Nicholson family.  Above all, she loved her family, friends and community.  Central Butte was her home and she actively contributed and participated in all that the town had to offer.  She was a curler, quilter, reader, card player, music lover, dancer and baker.  She served on the library board, was United Church secretary, convener at the Legion in Central Butte and was involved in many fundraisers and events.
Due to restrictions regarding Covid-19, a Private Family Service will be held to honour Mavis.  Friends and Family are invited to view the service virtually on Tuesday, April 6th, 2021 at 2:00 p.m. by going to www.moosejawfuneralhome.com/webcast/.
The family asks that in lieu of flowers, donations in Mavis' name be made to either the Central Butte Seniors Centre, PO Box 509, Central Butte, SK S0H 0T0 or Iver Main Place, PO Box 550, Central Butte, SK. S0H 0T0.  Arrangements are entrusted to Moose Jaw Funeral Home, 268 Mulberry Lane.  James Murdock, Funeral Director 306-693-4550