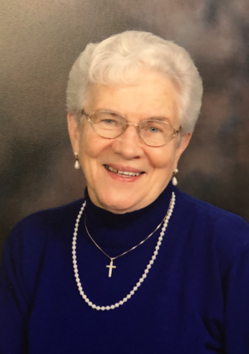 Jadwiga Nicholson (Staniowski)
Jadwiga "Heidi" Nicholson (née: Martin; Staniowski), aged 96 years of Moose Jaw, SK passed away peacefully on Sunday, March 20th, 2022 Chateau Saint Michael's.  Heidi (as she was known to her friends) was born June 15th, 1925 in Kostopol, Ukraine to mother Olga (Schleger) and father Emil Martin.  Heidi spent her youth living in rural Germany with her parents, sister Freida (Sarnia, Ontario) and brothers, Edward (predeceased) and Arthur (Kempten, Germany).  During the war years Heidi was trained and served as a frontline trauma nurse with the German Red Cross.  While deployed in Italy she would meet her future husband, Polish soldier Pte Waclaw Staniowski (predeceased 1992), at the Battle of Monte Cassino.  Heidi and Waclaw were married July 7th, 1945 in Trani, Italy.  Shortly thereafter, they were moved with the demobilizing Polish Forces to the Polish Displaced Persons Camp in Shropshire, England.  During their time in England, daughter Stefanie was born.  Heidi, Waclaw and Stefanie immigrated to Canada on August 17th, 1948 via Halifax, Nova Scotia to Yellow Grass, Saskatchewan.  The family would finally settle in Moose Jaw.
An amazingly determined, accomplished and full life was to follow.  Overcoming the challenges of immigration, learning a new language and earning a nursing degree in Canada, Heidi would find time to raise an expanded family of daughter, Stefanie and sons: Leslie (predeceased 2004), Edward and Robert.  Today Heidi's family legacy includes her four children, 11 grandchildren and 10 great-grandchildren.
Heidi's contribution to the nursing profession included over 25 years' service at the Union Hospital in Moose Jaw.  In her own words "she was blessed to have made many wonderful friends and acquaintances during her time nursing".  In addition to family and career, Heidi loved swimming, cooking, gardening, travel, and especially the fellowship at Emmanuel Lutheran Church, where she faithfully worshipped and sang in the choir.  In her later years, Heidi also considered it a blessing to have been married to Thomas Little (predeceased 1994) and Harvey Nicholson (predeceased 2009).  
A Funeral to Celebrate Heidi's Life will be held on Saturday, June 18th, 2022 at 1:00 p.m. in Emmanuel Lutheran Church, 15 Paul Dr, Moose Jaw, SK with Pastor Jason Schultz officiating.  It is requested that any memorial donations be made in Heidi's name to Joe's Place, 402 Main St N, Moose Jaw, SK S6H 3K2.   
Heidi's life reflects a deep and enduring faith in Christ, the resurrection and eternal life.  Her story and legacy are not over, it is just begun; Colossians 3:1-4.
Arrangements are entrusted to Moose Jaw Funeral Home, 268 Mulberry Lane.  Todd Sjoberg, Funeral Director 306-693-4550