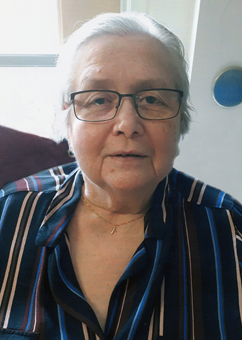 On Tuesday April 21, 2020, Beverly Neuman, loving wife and mother of two sons passed away at the age of 74 in Moose Jaw, Saskatchewan.
Beverly Fay Neuman was born on June 18, 1945 in Moose Jaw, SK.  She grew up in Ormiston, SK where she met her husband Larry Neuman.  Their marriage began on October 5, 1963 and lasted for 55 years.  Making their home in Rouleau, SK, they raised two sons, Robin and Scott.
Bev loved to be busy throughout her life and some of her favorite activities involved crocheting, knitting, attending horse shows with her sons, and spending time with her relatives.  In 1980 Bev found a way to make horse shows more than a pastime when she took on the role of secretary for the Saskatchewan Quarter Horse Association.  Soon after she became the secretary for the Saskatchewan Stakes and Futurity as well.  She continued her involvement with both associations for more than 25 years.  
Bev's love of entertaining family and friends was evident in almost everything she did.  From community involvement in her years at Rouleau, SK to socializing with her horse show friends to entertaining family for birthdays, holidays, and no special occasion, Bev was busy all the time.  Throughout her life Bev was devoted to the care of dogs and cats. She was active within various church organizations at Emmanuel Lutheran Church in Moose Jaw.  If there was a reason to visit, coffee was on, cards were shuffled, and treats were served.  Everyone who visited left with a full stomach and a smile.  Every opportunity that arose would find Bev and Larry heading to Billings, MT to spend time with their two grandchildren.  
Bev was preceded in death by her husband Larry, father Clarence, mother Nora, and brother Richard.  She is survived by her brother Leroy, son Robin, son Scott (Amy), and her grandchildren Elise and Evan.
A Private Family Graveside Service to honor Bev will be held at the Ormiston Cemetery. Any donations in memoriam may be sent to Emmanuel Lutheran Church, Box 1376 Moose Jaw, SK. S6H 4R3.  Arrangements are entrusted to Moose Jaw Funeral Home, 268 Mulberry Lane.  James Murdock, Director 306-693-4550