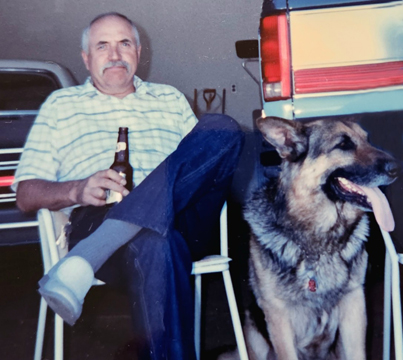 Bob (Robert Charles) Nelson
September 1st, 1943 – September 1st, 2023
Bob Nelson passed away on his birthday, after a 5 year long constant health battle, peacefully and at home where he wanted to be, on Friday, September 1st, 2023.
He was predeceased by his mom, Elizabeth; dad, Clarence; brother, Donald; and nephew, Raymond.  Bob leaves behind his loving partner and friend of 42 years, Rhonda Hill; Donnie's girls – Marilyn (Al) Boyce, Phyllis (Dave) Kavalench, Debbie Caron, Tammy (Clayton) Miller, and Cindy (Kevin) Stowe; their brother, Randy Nelson; sister-in-law, Shirley Nelson; Raymond's daughters, Carrie (Mike) Lawrence and Destinee Nelson, and their mother Bev (Rob) Hodgson; along with many other much loved great and great-great-nieces and nephews, and cousins; special friends: Lloyd, Roger, Lorne, and Shaun; as well as many other good friends and acquaintances.
Bob was a perfectionist and if he did something for you or himself, you knew it was done right.  He lived a full life and pursued many passions.  Bob loved stock car racing and won several Moose Jaw Club championships, along with Top Driver and Fans' Choice awards.  Many will remember his 1963 Merc Meteor and 1972 Ford Gran Torino, and his numbers 427 and 27, roaring down the track and sliding out of number 4 corner into the home straight in front of the grandstand.  
Bob had a lifelong passion for racing pigeons and had them for 70 years.  He was a walking encyclopedia of pigeon and pigeon racing knowledge.  His birds won many races and always knew they were safe and secure with him.  He also had bantam chickens for several years, who would come and sit on the deck with him.  Bob also loved his several dogs, a cherished cat, and the horses.
Bob was very musical, played a mean guitar, and had a great voice.  He had broad music tastes with country, especially Merle Haggard and Marty Robbins, and soft rock as his favorites, but you haven't lived if you never heard him play Chopin, Bach, Handel, and Mozart, and AC/DC, Led Zeppelin, and Metallica on the electric guitar.
He restored from the ground up a 1950 Mercury pickup and a 1953 Chev Sedan Delivery and enjoyed attending many car shows.
Bob was a Journeyman Glazier and Aluminum Storefront specialist, and many buildings in Moose Jaw and the southern half of the province showcase his meticulous work.  He worked at CPI Glass for 20 years and was partner with Rhonda at Champagne Glass for 17 years.
Bob was very handy at so many things, from working on anything mechanical to building, renovating and general repairs.  He was always busy and seldom still.
Bob was a straight shooter, loved to joke, tease, laugh, dance, and have a good time.  He was passionate, compassionate, generous, talented, honest, loyal, strong as a bull, a hard worker, and his word was his bond always.  We will miss Bob mightily and he will always be in our hearts and minds.  
He always used to say "Lay a little Merle on me" before performing one of his songs, so I am going to 'lay a little Merle' on him now:
"Sing me back home with a song I used to hear.
Make my old memories come alive.
Take me away and turn back the years.
Sing me back home before I die."
"I'd trade all of my tomorrows for just one yesterday."
Will love you always my partner, my friend, my companion, my rock.
Bob loved a cold beer or two on a hot day, so think of him when you lift a cold one.
In keeping with Bob's wishes, a Private Family Graveside Service will be held at a later date.  As an expression of sympathy, donations in Bob's name may be made to The Moose Jaw Humane Society, Box 1658 Station Main, Moose Jaw, SK S6H 7K7.  Arrangements are entrusted to Moose Jaw Funeral Home, 268 Mulberry Lane.  Andrew Pratt, Funeral Director 306-693-4550