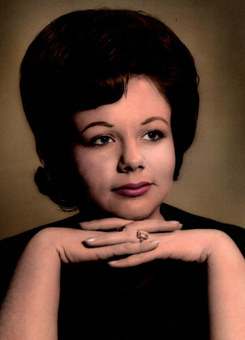 At sunrise on Wednesday, June 23rd, 2021 our wonderful Marilynn gently left us in her sleep.  Marilynn was an inspiration and tough as nails.  She was born to Fred and Helena Glass on September 20th, 1944 in Moose Jaw, SK.  Marilynn and Doug married in Clearbrook, Minnesota on March 12th, 1966 and were together for 55 years.  They are loving parents of Richele (Stuart), Renee (Graham), and Ryan; proud grandmother of Deidre, Desiree (Jimmy), Virginia (Jay), and Jonathon; nurturing sister of Yvonne (Ivan), Anita (Jan), Holly (George), Louise (Randy) and Daniel (Darlene).
In May of 1973 Marilynn and Doug, accompanied by their daughters Richele and Renee, moved from Wisconsin to their homestead north of Chaplin, SK.  In 1974 the family was blessed with Ryan.  Marilynn put her heart and soul into helping and putting others first.  She tended an impressive garden, canned a variety of goods, and never missed an event.  Marilynn drove the Halvorgate rural bus route, then managed the Chaplin shrimp plant for many years.  She was a support worker and a vital part of the Farm Stress Line Workers family unit from 1994 to 2009.

Marilynn was a spunky fashionista and glamour girl showcasing the most extravagant earrings, Madonna bangles, fresh lipstick, earthy tones and shiny shoes (often traded for her Birkenstocks).  She loved music and dancing, especially at the Craven Country Jamboree.  She loved fashion, shopping and always looked her best.  She made her children matching outfits and her granddaughters' quilts from scratch.  Many of her favourite days were spent at the lake, boating, fishing or camping with family and friends.  Her best days were with her granddaughters, something she was most passionate about.  She loved to travel, and travelled as long as she could.  Doug and Marilynn visited Alaska, Las Vegas, Cuba, Mexico, Panama, Costa Rica, Hawaii, Nashville, the Okanagan, and many incredible fishing trips with dear friends.  They took their family to Disneyland and had all three granddaughters visit them in Arizona.
Wherever you are, we know you are having McDonald's soft serve ice cream, dancing with Elvis and the angels, watching the sunset, and holding your grandson again.
I'll keep you forever in my heart
Till I see you again
May our song never end
Till then remember this is not goodbye
As per Marilynn's wishes, a tentative date for her Celebration of Life will be held on Saturday, September 25th, 2021 at the Chaplin Hall.  As an expression of sympathy, donations in Marilynn's name may be made to Chaplin Lutheran Church, Box 187, Chaplin, SK S0H 0V0.  Arrangements are entrusted to Moose Jaw Funeral Home, 268 Mulberry Lane.  Andrew Pratt Funeral Director 306-693-4550