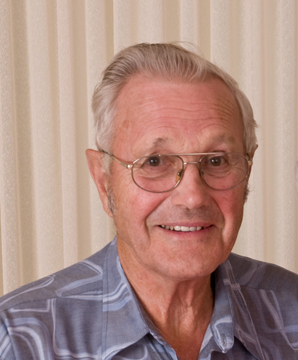 With loving hearts, we sadly announce the passing of Edward "Harvey" Nash at the age of 92 years on October 8, 2022.  Harvey is survived by his loving wife of 69 years, Helen (Campbell).  His spirit lives on in his four children: Randy (Annette), Barb, Donna (Denis) and Dale (Debbie); his seven grandchildren: Kaity, Tess, Matthew, Kenzie, Shea, Dylan and Jill; three great-grandchildren: Arlen, Bo and Aune, as well as two sisters, Grace and Norma. He was predeceased by two brothers and three sisters. He will also be remembered by an extended family of relatives and friends whose lives he touched.  
Harvey was born to Philip and Edith Nash in Kelstern, SK in 1929.  At the age of nine, he moved with his family to Moose Jaw, later graduating from Central Collegiate.  He then began his career as an electrician, being a partner and then owner of W.E. Smith Electric for many years.  He was a jack-of-all-trades, building their first two homes on his own.
Harvey had a life-long love of hunting and fishing.  His other interests were gardening, golfing and wood carving.  Harvey and Helen also enjoyed many trips abroad.
Once retired, he spent many happy times with the Grumpy Old Men walking group in Wakamow Valley and rarely missed a morning of walking, coffee, joking and solving the world's problems.
Harvey led a very full and long life for which we are forever grateful.
The family would like to extend our deepest thanks to the many angels at Guardian Grove in Providence Place.  The compassionate care you provided for Harvey was such a comfort to us.  The care and kindness you extended to our family over the past very difficult days will never be forgotten.
A Celebration of Life to honor Harvey will be held on Friday, October 14th, 2022 at 1:00 p.m. in the Harvey Room at Moose Jaw Funeral Home. Masking is strongly encouraged. According to Harvey's wishes a private family interment will take place at Sunset Cemetery. For friends and family who are unable to attend, you are invited to watch the service virtually by going to www.moosejawfuneralhome.com/webcast/.  
In lieu of flowers, donations in Harvey's name may be made to the Alzheimer Association of Saskatchewan 301 – 2550 – 12th Ave Regina, SKS4P 3X1 or to The Guardian Grove Unit at Providence Place Foundation Inc. 100 – 2nd Ave. N.E. Moose Jaw, SK S6H 1B8 or to Doctors Without Borders https://action.msf.ca/donatenow.  
Arrangements are entrusted to Moose Jaw Funeral Home, 268 Mulberry Lane.  Gary McDowell, Funeral Director 306-693-4550