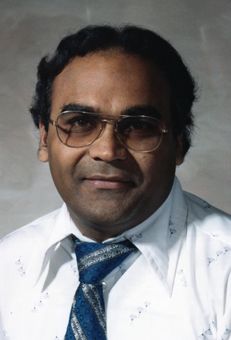 January 20th, 1945 – March 1st, 2022 
Kris Nanan, aged 77 years of Moose Jaw, SK passed away on Tuesday, March 1st, 2022.
Kris was born January 20th, 1945 in Couva, Trinidad.  He migrated to Edmonton, Alberta in 1969.  Kris and his wife settled in Moose Jaw, SK in 1976 where they started their family.  
He was predeceased by his father, John; mother, Sanmat; and brothers, Hans and Kissoon.  Kris is survived by his wife, Sandra; sons, Shaun and Jason; daughter-in-law, Sandy; his loving grandchildren, Eric and Emily; siblings: Kamla Lloyd, Vijanti Dubay, Chandi Nanan, Lutchmi Lackhee, and Savi Bowen. 
Kris graduated from N.A.I.T. (Northern Alberta Institute of Technology) and the University of Alberta, completing his Diploma in Electronics Engineering Technology, followed by completing a Degree in Electrical Engineering.  He started off his amazing career at Shell Oil in Edmonton, Alberta.  Kris always had a passion for education, which led him to Saskatchewan Polytechnic in 1976 (formerly Saskatchewan Technical Institute and Saskatchewan Institute of Applied Science and Technology).  He was an instructor in the Electrical Engineering Technology department for 35 years until his retirement in 2011.  He was also the Program Head of the department for 17 years during his tenure.
Kris was a brilliant and driven man with a hard-working attitude.  He was well known for his big heart and sense of humour.  His passion included spending time with his family and friends, and his grandchildren were his idol.  Some of his hobbies included cricket, soccer, and gardening, and he was a great chef.  His volunteer work included memberships with the Moose Jaw Engineering Society and Moose Jaw Caribbean Association.
A Private Family Service will be held on Wednesday, March 9th, 2022 at 1:30 p.m.  Pastor Larry Hasmatali will officiate and interment will take place at Rosedale Cemetery.  Friends and family are invited to watch the service virtually by going to www.moosejawfuneralhome.com/webcast/.  If desired, memorial contributions may be made to the Heart and Stroke Foundation of Saskatchewan, Unit 26 – 1738 Quebec Ave, Saskatoon, SK S7K 1V9.  Condolences can be sent to: sandra_nanan@hotmail.com.  Arrangements are entrusted to Moose Jaw Funeral Home, 268 Mulberry Lane.  Gary McDowell, Funeral Director 306-693-4550