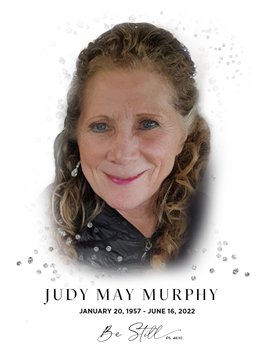 With great sadness we announce the passing of Judy May Murphy, aged 65 years of Moose Jaw, Saskatchewan on Thursday, June 16th, 2022.  "The Judester" or "Grandma Juders" passed away peacefully at home.  True to her stylish nature, she had her playlist going, her chandelier glistening, and a glass of wine at her side.
Judy May Murphy was born on January 20th, 1957 in Prince Albert, Saskatchewan to Walder Brunton Murphy and Rena May Murphy.  She graduated from PACI, got married in 1979 to Brian Podhorodeski, had a career at Warehausser, and became the mother of her two beautiful children, Heidi (40) and Shaun (36).  In 2004 she moved to Moose Jaw, Saskatchewan and launched a fulfilling career as a Justice of The Peace.  Judy enjoyed her work and the wonderful police officers with whom she worked with.  She was lovingly known as "Judge Judy" and brought joy and colour to her work.
Judy lived a life of beauty and passion.  She built a "She Shed" for sleepovers with her granddaughter Avry, filled her yard with treasures from around the world, and loved to travel.  She loved to shop, especially when she could get a good deal, and was constantly thinking about others while she went treasure hunting.  Judy was generous, funny, and always fabulous.  She adored her cats and even had her wedding photos taken with one of them.
Judy was full of great ideas.  She had huge plans for this summer, full of floaties, party islands, the beach, and laughter shared in her backyard.  Driven by the statement "If you can't stop thinking about it, don't stop working for it" she kept herself busy until the end.
Judy was a stylish lady, living by and painting on her She Shed: Proverbs 31:25 NLT "She is clothed with strength and dignity, and she laughs without fear of the future".  She truly seized every day and lived life to the fullest. She was a dedicated friend, caring mother, and adventurous grandmother who made everything around her more beautiful. From coordinated outfits to cuddles with her cats Zen Garden, Geisha Girl and Pepper, to enjoying a laugh in her backyard, she was a treasure collector.
Judy was a fierce woman with a kind heart and she always showed up when she was needed.  Her presence, laughter, and festive ideas that lit up every occasion will be greatly missed.
She was predeceased by her father, Walder.  Judy is survived by her two children, Heidi Bochek (Bradley Evans) and Shaun Podhorodeski; her beloved grandchildren, Avry Bochek and Laykin Northley; brothers, Brian (Peggy) Murphy and Terry (Terri) Murphy; mother, Rena Murphy; and her dear friend, Carol (Terry) Wallace – together, they were Thelma and Louise. 
Judy had a hard time sitting still – although she strived to find stillness.  She longed for the feeling of stillness she got on her swing as a child.  She spent a great deal of time recreating this feeling with an adult swing and a tattoo of her childhood swing with a reminder to "be still."  Our great hope is that she found the stillness she was looking for in her passing.
Judy loved to give rather than receive.  In lieu of a Funeral Service, donations may be made in her honour to The Moose Jaw Humane Society, Box 1658 Station Main, Moose Jaw, SK S6H 7K7.  Arrangements are entrusted to Moose Jaw Funeral Home, 268 Mulberry Lane.  Michelle Ellis, Funeral Director 306-693-4550