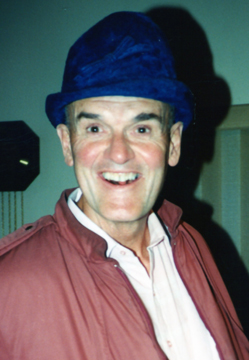 Edward Joseph Murphy, aged 91 years of Moose Jaw, SK passed away on Tuesday, August 16th, 2022.
Ed was born in Moose Jaw to Laura and Art Murphy on June 27th, 1931.  He had two sisters, Sheila and Ula.  After completing his high school at Central Collegiate, he went on to Peacock to take a commercial course.
Ed worked in the office at the CP Rail for 36 years.  After his retirement, he willingly continued to help when he could.  Two gentlemen in particular enjoyed his company weekly when he took them shopping, for a coffee, or just had a visit.  Ed was a volunteer driver for Thunder Creek Home Care, and was a swimming and basketball coach.  In 1969, he was named Sportsman of the Year.  Ed was an avid gardener, spending many hours in his yard.  He was especially fond of roses and grew lots of different varieties, winning awards for his efforts.  He also enjoyed curling, swimming and working out at the gym.  Ed joined the Knight of Columbus in 1952 and held many offices in his 70 years of service.
In 1984, he fell in love, telling his friend that he had met his angel.  He and Rhoda were married and created a family with her three children: Zoey, Paul and Dave.
He was predeceased by his parents; sister, Ula; brothers-in-law, Gene and Merv; sister-in-law, Catherine; and Rhoda's children, Paul and Zoey.  Ed will be lovingly remembered by his wife, Rhoda; sister, Sheila; brother-in-law, Paul Garnett; 2 nieces and special nephew, Bob; Dave (Debbie), McKenzie (Zane), Cooper, Vic (Annie), Emily, and Rox; 7 grandsons, 1 granddaughter, 7 great-grandsons, and 2 great-granddaughters.
The Funeral Mass will be celebrated on Wednesday, August 24th, 2022 at 2:00 p.m. in Church of Our Lady, 566 Vaughan St, Moose Jaw, SK with Father Jake Ibay as the presiding celebrant.  In lieu of flowers, donations in Ed's name may be made to Church of Our Lady, 566 Vaughan St, Moose Jaw, SK S6H 6L3.  Cara Ashworth – Intern Funeral Director 306-693-4550