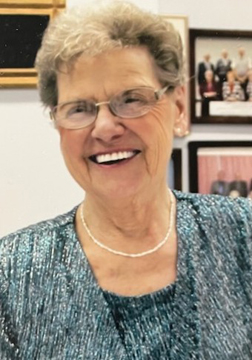 March 7th, 1936 – August 19th, 2022
It is with great sadness, but with beautiful memories left behind, that we announce the passing of Helen Murdoch, aged 86 years of Moose Jaw and formerly of Central Butte, SK.  Helen was born at Central Butte on March 7th, 1936 to Jake and Annie Klassen, the 7th of 10 children. 
She was predeceased by her husband, Robert (Bob) Murdoch; brothers and sisters: Frank, Jake, Anne, Sally, Mary, Margaret and Elmer; and son-in-law, Ted Freter.  Helen leaves behind her daughters, Debbie (Boyd) Jones and their children Andria (Chris) Lepage, Megan (Trevor) McKenzie and Darcy (Dawn) Jones; daughter, Michele (Randy) Yaschuk and their sons Kyle and Greg (Kelsey); daughter, Janice Freter and her sons Kurtis and Stefan (Jasmine); daughter, Donna (Mike) Fowler and children Tom Masson (Rachelle) and Samantha Masson (Brendon Willis); great-grandchildren: Kolby, Carter and Austin Lepage, Presley and Lena McKenzie, Jayce, Violet and Rylan Jones, Bella and Jack Masson, Sofia and Callie Willis.  She leaves behind her brother, Al (Doreen) Klassen and sister, Laura (Fred) Wilson; sisters-in-law, Loretta Klassen and Jane Murdoch (Dave); as well as numerous nieces, nephews and special friends.
The Celebration of Life for Helen will be held on Saturday, September 17th, 2022 at 11:00 a.m. in Moose Jaw Funeral Home and interment will take place at Central Butte Cemetery.  Those unable to attend may view the service virtually by going to www.moosejawfuneralhome.com/webcast/.  In lieu of flowers, donations in Helen's name may be made to the Moose Jaw Health Foundation, 55 Diefenbaker Drive, Moose Jaw, SK S6J 0C2.  Arrangements are entrusted to Moose Jaw Funeral Home, 268 Mulberry Lane.  Michelle Ellis, Funeral Director 306-693-4550