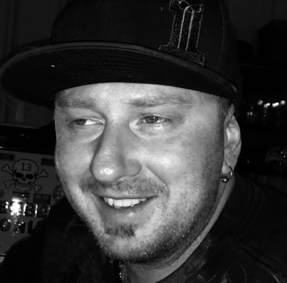 April 19th, 1977 – March 7th, 2021
Donald Kenneth Mortensen, aged 43 years of Moose Jaw, SK passed away on Sunday, March 7th, 2021.  He was predeceased by his grandparents, Ann and Ken Williams; and grandmother, Shirley Mortensen.  Donald is survived by his loving mother, Sherry Mortensen (née: Williams); father, Rainer; and daughter, Charlie "Forever in His Heart".  Donald was the oldest of 4 children and is survived by: his brother, Joshuah Mortensen; sister, Ann-Maria Mortensen (Brady); nephews, Ryder and Janzen; niece, Ella-Lee; sister, Sarah Kay (Nathan); niece, Tailyn and nephew, Jacob.  He will also be remembered by his aunt, Casey Endicott (Lyle); cousins, Dennis and Kyle; uncle, Randy Williams and his sons Robert and David; aunt, Bev Arrance (Ray); cousins: Raymond, Adam and Chuck; aunt, Jo-Ann (Tim); cousin, Richard Williams; uncle, David Mortensen (Rhonda); Brody and Maya of Humboldt, SK; grandfather, Harold Mortensen of Penticton, BC; as well as numerous other aunts, uncles and cousins.
Donald (Dill) was an inspiration to the many lives he touched!  He touched the lives of more people than we will ever know!  So it is with great sorrow and pain that we notify his far reached family, friends, and extended family (you know who you are) of his passing.  Donald loved playing sports growing up and represented his school and "South Hill".  He excelled in hockey, to the ranks of playing junior hockey.  
Donald's true love was working on the oil-rigs, his hard work and dedication to be "Top-Driller".  He worked this hard life, extending his career past 25 years.  Don also loved his mechanics and building his cars, trucks, and had a love for his bikes.  If you couldn't find him, you looked in the garage.  Donald also loved to work with concrete, building many masonry structures around Moose Jaw and area, which we will treasure for our remaining years!  
In his last 11 years, his daughter was his life.  He treasured the moments and the time that he had with her.  She was his #1 love.  
Donald's battle with diabetes and heart disease was the only one he ever lost in his life.  He wore his name proudly on many jerseys and on his back, always strived for goodness while never looking back.
The family would like to give a special thank you to Dr. Jennifer Ellen Baird for her honestly and compassion when it seemed like no one else cared!  Also thank you to nurse Jordan for taking the time to be his friend at the Regina General Hospital.  Thank you also to Moose Jaw Funeral Home for all you do, and from all the other families that rely on you.  Donald's memories will be instilled in us all.
A Private Family Service will be held.  Friends and Family are invited to view the service virtually on Thursday, March 18th, 2021 starting at 12:30 p.m. by going to www.moosejawfuneralhome.com/webcast/.  A Celebration of Donald's Life and "Last Ride" will be announced later this spring.  Arrangements are entrusted to Moose Jaw Funeral Home, 268 Mulberry Lane.  James Murdock, Funeral Director 306-693-4550