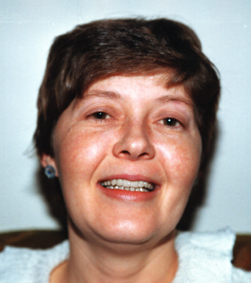 Do not stand at my grave and weep
I am not there.  I do not sleep.
I am a thousand winds that blow.
I am the diamond glints on snow.
I am the sunlight on ripen grain.
I am the gentle autumn rain.
When you awaken in the morning's hush
I am the swift uplifting rush
Of quiet birds in circled flight.
I am the soft stars that shine at night.
Do not stand at my grave and cry;
I am not there.  I did not die.
By Margaret Frye
Margaret Ann Morrell, of Moose Jaw, SK grew up through the best times in history and passed away on Saturday, February 20th, 2021 during one of the darkest.  Margaret Ann will be lovingly remembered by her husband, Bill; brother, Harvey (Doreen) and family; and sister, Mildred (Carl) and family.  
She fought a brave battle against an unrelenting foe on her terms, with dignity, grace and humour; at home with people she loved, in peace, and with no pain.  For that we sincerely appreciate the caring compassion of our friend Linda, as well as the dedicated nursing staff of the Home Care Palliative Unit that assisted us with Margaret Ann's journey through life.  
A Private Family Service will be held at a later date.  In her honour and in lieu of flowers, donations may be made to the Kinsmen Telemiracle Foundation, 2217C Hanselman Court, Saskatoon, SK S7L 6A8.  Arrangements are entrusted to Moose Jaw Funeral Home, 268 Mulberry Lane.  Michelle Ellis, Funeral Director 306-693-4550