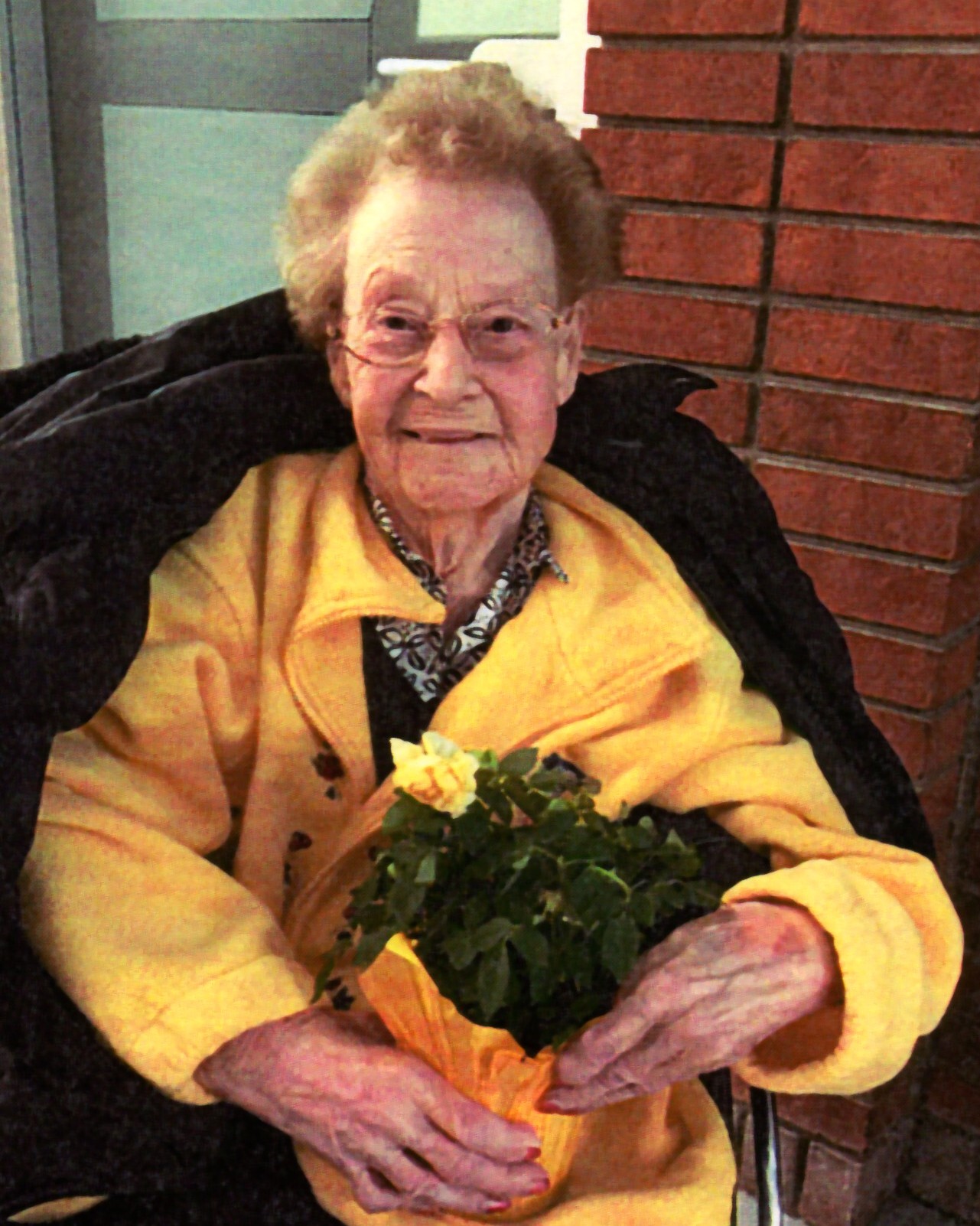 Norma Morin (McBain; née: Smith)
Norma Morin passed away from Covid-19 on Sunday, April 17th, 2022, just one week prior to her 101st birthday.  Born on the farm at Beadle, SK on April 24th, 1921, Norma was predeceased by her husbands, Herbert McBain and Louis Morin.  She is survived by her son, Dale (Marlene) McBain; grandson, Jason McBain; granddaughter, Joelle McBain (Jurgen Maslany); and great-granddaughter, Jorja Maslany.  She is also survived by her foster son, George Master and his children Mary Anne and Gordon.
Norma was raised in the Kindersley, SK area.  In 1939 she married Herb McBain and they moved to Saskatoon, SK.  After working at the Met store in the 1950's, Norma went to STI in 1960 to become a LPN.  After graduating in 1962, she nursed at University Hospital.  Following Herb's passing in 1964, Norma met and married Louis Morin in 1971.  She gave up nursing to farm with Louis until his retirement.  Norma loved dancing and she and Louis were long-time members of Saskatoon's square dance scene, including going on a trip to Europe to square dance in several countries.  She and Louis enjoyed travelling, especially their trips to Hawaii and Padre Island.  After selling their condo in Saskatoon, Norma and Louis moved to Mulberry Estates in Moose Jaw, where they enjoyed their stay and made many friendships.  Following Louis' passing in 2018, Norma resided at the Mulberry until a fall necessitated a move to Providence Place where she resided until her passing. 
A Celebration of Norma's Life will be held on Friday, April 29th, 2022 at 9:30 a.m. in Moose Jaw Funeral Home.  Reverend Jim Tenford will officiate and interment will follow at Hillcrest Cemetery in Saskatoon, SK at 2:30 p.m. Those not able to attend are able to view the service virtually by going to www.moosejawfuneralhome.com/webcast/.  As an expression of sympathy, donations in Norma's name may be made to the Royal University Hospital Foundation, 103 Hospital Drive, Saskatoon, SK S7N 0W8.  Arrangements are entrusted to Moose Jaw Funeral Home, 268 Mulberry Lane.  Michelle Ellis, Funeral Director 306-693-4550