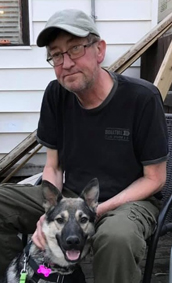 It is with heavy hearts that we announce the passing of our dad, son, brother and uncle, Bradley Glen Montgomery, aged 59 years of Moose Jaw, SK on Friday, March 12th, 2021.  He passed away after fighting a 7 year battle with cancer and near the end, with pneumonia, battles he sadly could no longer fight.    
Brad will be greatly missed by his children: Nathan (Nikki), Veronica (Jesse), and Andrea (Mitchell; his better half, Kate; father, Stan; mother, Elsie; brothers: Greg (Sharon), Jeff (Clarice), Rod (Lisa), and Corey (Rose); sisters, Carrie (Larry) and Lana; numerous aunts, uncles, nieces and nephews; as well as his best friends, Rob Siljer and Mike Seman. 
Brad worked for Mosaic for the majority of his career, but his most recent job that he enjoyed very much before having to step away, was working for the Rural Municipality of Baildon.  In his younger years you would find him at the curling rink with his siblings or his kids.  He loved to play the game but also enjoyed watching as well.  Brad's pride and joy was his children that he shared with his better half.  Any chance he got, he would talk about how much he loved them and Kate, and how amazing his children grew up to be.  He was always willing to help them out and tried his best to never miss their extracurricular activities.  You could always find him on the sidelines cheering them on.  Brad enjoyed the outdoors.  He loved to putter around his backyard on projects or fixing up a vehicle, but what he really enjoyed about being outdoors was going camping and kayaking.  He loved going to Cypress Hills with his kids, his better half, and his friends.
Brad loved to give special nicknames to the ones he loved the most.  He was also a practical joker, enjoying playing jokes on anyone in the room.  Brad was a very heart-filled man with a true heart of gold.  He was always willing to help you out when you needed it.  He will be greatly missed by his family and friends.  
The family would like to send a huge thank you to Dr. J. Stushnoff, Dr. K. Hetherington, and all of the members of the Palliative Home Care Program for making his last few weeks more comfortable.  
A Private Family Gathering will be held at a later date.  As an expression of sympathy, donations in Brad's name may be made to The Canadian Diabetes Association, 919B Albert St, Regina SK S4R 2P6.  Arrangements are entrusted to Moose Jaw Funeral Home, 268 Mulberry Lane.  Andrew Pratt Funeral Director 306-693-4550