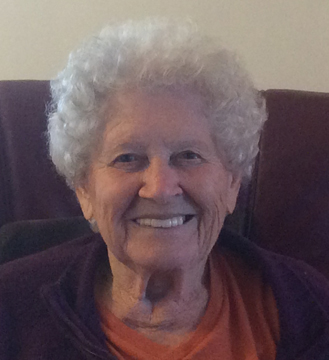 It is with heavy hearts that we have to announce that in the early morning hours of Friday, August 26th, 2022 Isabel Mochoruk passed away peacefully, while at rest, at the age of 96 years.
Isabel was born in Spring Valley, Saskatchewan and was the second youngest of eight children: Katie, Charlotte, Louise, Peter, Jacob, Henry, and Helen.  At three years old her mother Margaret passed away and she was raised by her father Adam.
Isabel married Michael Mochoruk on September 29th, 1951.  They had three boys: Marvyn, Leonard, and Dale.  Isabel was the glue that kept the family together.  She loved her family and would do absolutely everything she could for them.  Isabel was a woman of faith who attended Emmanuel Lutheran Church in Moose Jaw.
Michael worked away from home a lot so Isabel looked after the home, garden and family.  She loved to cook and spent many weekends preparing family meals with her sisters and relatives.  Many great days were spent at the cabin at Pasqua Lake with her family, often going there as soon as school was out and staying until the end of summer.  She also loved vacationing with her sisters, brothers, niece Denise and son Dale.  Some of the places Isabel visited were: Hawaii, Mexico, Antigua, Jamaica, St. Thomas USVI, Barbados and Anguilla.
She was predeceased by her son, Marvyn; parents, Adam and Margaret; brothers: Jacob, Peter, and Henry; and sisters: Katie, Charlotte, Louise and Helen.  Isabel is survived by her husband of 70 years, Michael; sons, Leonard (Karen) and Dale (Joelle); daughter-in-law, Marilyn; 6 grandchildren and 4 great-grandchildren; as well as her fur babies, Weezy and Toots.
The family would like to thank Home Care, with a special mention to Paula, Andrea and Cathy.  Also The staff at Pioneer Lodge for her excellent care.
In keeping with Isabel's wishes, a Private Family Service will be held.  Arrangements are entrusted to Moose Jaw Funeral Home, 268 Mulberry Lane.  Gary McDowell, Funeral Director 306-693-4550