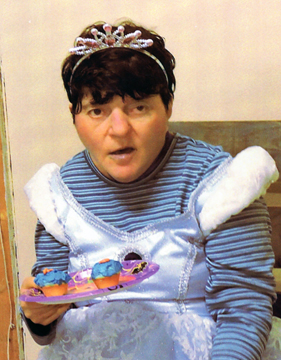 Marjorie Fern Mitchell aged 65 years of Moose Jaw, SK, passed away on Sunday, September 24th, 2023.  She was born on October 30th, 1957 and was predeceased by her mother, Margaret Florence Mitchell.  
Marjorie was fondly called Marjie by her friends and supports and loved to be called a princess.  She went to live at Valley View Center on April 30th, 1990 before moving into Karis Disability Services (formerly Christian Horizons) on Woodlily Drive on October 5th, 2015, and then to Pioneer Lodge in November of 2021 until her passing.  Marjie loved music and dancing, especially guitar and singing.  She was always up for a party, Halloween and birthday parties being her favorite.  She even could be considered a bit of a party planner!  She loved Christmas and presents, always exited for the holiday and the surprises that came with it.  Marjorie was known for accessorizing and being a fashionista, wearing boas, hats, tiaras and more.  She was a beauty queen and felt pretty when wearing her perfume.  She was also a foodie with hamburgers, coffee, beer and coke at the top of her list.  Marjorie also loved to scan through Sears magazines and select her books by smell.
Marjie lived life out loud and loved all that life had to offer.  She loved to be surrounded by all of the people who supported her in living her life to the max.  Her appreciation to others will forever remain in the smiles and laughter that she shared with them.
A Celebration of Marjie's life will be held on Wednesday, October 4th, 2023 at 11:30 a.m. in the Harvey Room at Moose Jaw Funeral Home.  A private interment will take place in Rosedale Cemetery.  Please honour Marjie by wearing something extra, like a feather boa, fancy hat, or beautiful brooch.  Arrangements are entrusted to Moose Jaw Funeral Home, 268 Mulberry Lane.  Michelle Ellis, Funeral Director 306-693-4550