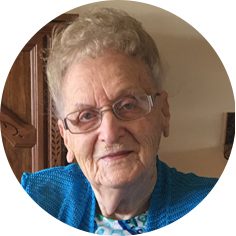 Pearl Lillian Miller (nee Daniel)
Pearl Lillian Miller, aged 96 of Moose Jaw & Avonlea, Saskatchewan passed away on Saturday, September 12th, 2020. Pearl was predeceased by her husband, Percy in 2004, her parents Paul & Clara Daniel, brothers, Ray, Henry, Carl & Walter as well as several sisters-in-law & brothers-in-law in the Daniel & Miller families. Pearl will be dearly missed by daughter Carole (Frank) Schnitzler and her son Aron (Vanessa), great-grandchildren Amelia & Miranda, and son Terry (Daphne), great grandson Arlo; son Terrance and daughter Shiela; daughter Sandra (Wayne) Hutchinson and their daughter Delee (Dean), great-grandchildren Drew, Dane and Dacie, and daughter Corinne (James), great-grandchildren Micah & Cohen ; sister Pauline Miller, sisters-in-law Yolanda, Marion & Joyce Daniel. Pearl was born & raised in the Hearne district. She attended Amherst & later Avonlea School where she met Percy. They were married in 1943, one day before the Army was relocating Percy to Vancouver Island. When the war ended they returned to Avonlea where farming became their life. 
Pearl worked hard in the field and she was a fantastic cook. A close friend once said Pearl reminded her of Jesus who fed 5000 with a couple of fish & five loaves of bread.  A multitude of people would unexpectedly stop by at meal time.  Pearl would have one small chicken in the oven. Suddenly, a miracle would take place! A feast would be laid out before them. Everyone would be well fed and chicken would be left over.
Life wasn't all work. Pearl and Percy enjoyed travelling, curling, square dancing and playing card games with family and friends in Avonlea. Pearl also curled with the ladies. In recent years she played cards almost 6 nights a week in the social room at her apartment in Moose Jaw.
Pearl's grandchildren and great-children became an important part of her life. Crossword and crib competitions were fun along with her chocolate pies, tarts, buns and an endless list of desserts.  Near the end she cherished each phone call and exchange of "I love you".
Pearl's severe decline in health was made more difficult with the current Covid situation. A special thank you is owed to her neighbours and friends in Athabasca Towers who assisted her while family was stuck in isolation. A special thank you also to Amanda, Lynn and others on the Palliative Home Care Team.
The Graveside Service will take place at Hillcrest Cemetery, Avonlea, SK. on Thursday, September 17th, 2020 at 1:30 p.m.
In lieu of flowers, those wishing to donate may do so to the Avonlea United Church.  Arrangements are entrusted to Moose Jaw Funeral Home, 268 Mulberry Lane. Gary McDowell, Funeral Director 306-693-4550.