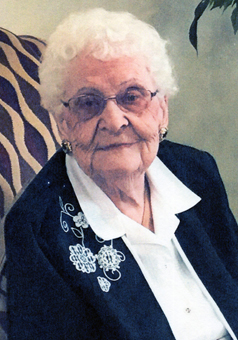 Mrs. Pauline Miller, aged 102 years of Moose Jaw and formerly of the Hearne district, SK passed away peacefully at Providence Place on the morning of Monday, July 25th, 2022.  
Pauline Christine Marie Daniel was born January 19th, 1920 in Taylor Ridge, Illinois, USA.  She came to the Avonlea/Hearne district as a baby with her parents Paul and Clara Daniel.  There she grew up and spent most of her life.  Pauline attended Amherst school at Hearne and took her high school in Avonlea.  She was the eldest of 6 children: Raymond, Henry, Pearl, Carl, and Walter.  After finishing high school, she married the love of her life Johnnie Miller on July 18th, 1940.  They resided at Hearne and farmed there most of their married life, where Pauline took an active role in growing a large garden and tending the animals.  Pauline and Johnnie had 2 children, Marlene (Bruce) Davey of Calgary, AB and Larry (Judy) Miller of Hearne, SK.  When Johnnie's health failed, they moved to Moose Jaw in 1994.    
She was predeceased by her parents, Paul and Clara Daniel; siblings: Raymond, Henry, Pearl, Carl and Walter; her loving husband, John; her beloved daughter, Marlene; grandson, Mardyne; son-in-law, Bruce; her lifelong best friend, Lois McDonald; sisters-in-law, Florence and Nonie; and brother-in-law, Percy.  Pauline is survived by her son, Larry (Judy) Miller; grandchildren: Mark Davey, Marlon (Kathy) Davey, Deb (Kevin) Penner, Larry (Belinda) Miller, and Dionne (Russ) Maier; great-grandchildren: Carter, Traylen, Colby, Kirklin, Ethan, Ryan, Scott, Chantelle, Rylee, Quincey, Lacey, Brittany and Dylan; great-great-grandchildren: Roz, Owen, Bennett and Brooks; sisters-in-law: Marion, Joyce and Yolanda Daniel; dear friend, Helen Steele; as well as many beloved nieces and nephews.
Pauline started to study the bible and loved the truths she was learning.  She was baptized a Jehovah's Witness in 1956.  She looked forward to meeting her loved ones who had died before her on a paradise earth that Jehovah had promised.
The family wishes to thank the caring staff at Mulberry Estates, Crescent Park Retirement Villa, and Providence Place in Moose Jaw, SK.
Pauline will be laid to rest beside her beloved Johnnie at Sunset Cemetery in Moose Jaw at a private family interment on Wednesday, August 3rd, 2022 at 10:00 a.m.  The Funeral Service will be held in Moose Jaw Funeral Home at 11:30 a.m. with lunch to follow.  Those not able to attend are able to view the service virtually by going to www.moosejawfuneralhome.com/webcast/.  Arrangements are entrusted to Moose Jaw Funeral Home, 268 Mulberry Lane.  Cara Ashworth – Intern Funeral Director 306-693-4550