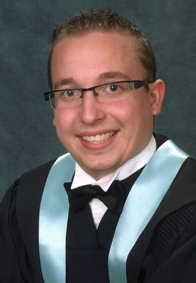 On Monday, March 8th, 2021 Mitchell Blair Miller passed away peacefully surrounded by the overwhelming love and faith of his family.
Mitchell was born May 28th, 1991 in Moose Jaw, Saskatchewan.  He grew up playing baseball, hockey, and piano.  Mitchell attended high school at Vanier Collegiate and then went on to study at the University of Saskatchewan.  He received both his Bachelor of Science and Master's in Microbiology and Immunology before moving back home to spend his last years with his family in Moose Jaw.  Mitchell was diagnosed with Adrenoleukodystrophy at the age of fourteen.  His health declined over the years, but his spirit remained strong until the end.
Mitchell will be forever remembered by his parents, Blair and Tamye (Weimer) Miller; sisters, Taylor (Stéphane) Taillon and Amanda (Reagan) Miller; fiancé, Sonya Sengphong; nephew, Isaac Taillon; grandparents: Ernie and Lillian (Reschney) Weimer and Mervin and Adeline (Mertin) Miller; as well as many aunts, uncles, and cousins.
The family would like to thank the following people for their service and wonderful care for Mitchell: Deacon Lamont Dyck, Dr. Brad Thorpe, Dr. Wendy Fitzpatrick, and the Palliative Care staff from Homecare and Dr. F.H. Wigmore Regional Hospital.  
A Private Catholic Funeral Mass will be celebrated on Friday, March 12th, 2021 at 1:00 p.m. at St. Joseph's Church.  The family invites you to participate in this mass virtually through the following livestream link: https://youtu.be/iL-7DPDY3XI.
In lieu of flowers, the family asks that donations be made towards a new accessible and inclusive playground at Palliser Regional Park cottage development.  E-transfers can be made to office@palliserregionalpark.com and cheques made payable to Palliser Regional Park, P.O. Box 89, Riverhurst, SK S0H 3P0. Please indicate in the e-transfer message or on the memo line that the money is for the DLCD playground in memory of Mitchell Miller.  If you would like a receipt for your donation, please include an email or postal address.
Arrangements are entrusted to Moose Jaw Funeral Home, 268 Mulberry Lane.  Gary McDowell, Funeral Director 306-693-4550