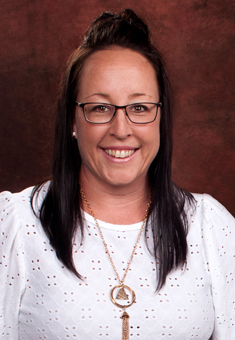 April 30th, 1976 – July 10th, 2021
Andrea Wynne Miller was born in Swift Current, Saskatchewan on April 30th, 1976 to John and Jo Ann McKenzie.  She was the eldest of three siblings.  From an early age Andrea was involved in sports.  She played basketball and although she was not the tallest player on the court, she was always a fierce competitor.  Andrea had a strong work ethic, which she instilled in her daughters.  In high school, she was a competitive golfer attending provincials, representing her school and community.  Andrea also loved the water and was active in synchronized swimming.  In her senior year of high school she decided to try a new activity and joined a new local Tae Kwon Do club with her brothers, Regan and Jared and some of their friends.  That is where she met her future husband Warren and their relationship began.
After graduating high school Andrea and Warren relocated to the Battleford's where Andrea attended post-secondary education in Early Childhood Development and Warren continued to advance his career in Court Services.  Andrea and Warren were married in Swift Current on August 10th, 1996.  During their time in the Battleford's Andrea and Warren decided to join a service club in order to meet new people in the community.  The Kinsmen and Kinette's were a good fit and the friendships and relationships forged during their four years in the Battleford's have remained strong to this day.  Andrea always looked forward to April each year when she returned back to volunteer with the annual Kinsmen Rodeo event.  She passed this spirit of community service on to the couple's two daughters, Mackenzie and Madison, who would also help at the event each spring.  Andrea was a very social person and the rodeo was also an opportunity to reconnect with friends in the community.
In 1998 Andrea and Warren relocated to Moose Jaw where they resided until her passing.  She always felt that Moose Jaw was the perfect size community to raise their family and on January 27th, 2000 they welcomed their first daughter Mackenzie Lauren into the world.  The couple was blessed with a second child, Madison Brianne, two years later on January 14th, 2002.
During her childhood Andrea enjoyed spending time at her grandparent's cottage at Cypress Hills.  Andrea and Warren discovered they both enjoyed camping early in their relationship.  The family has so many great memories of lake life and summers spent at the Palliser Regional Park near Riverhurst, Saskatchewan.  Mornings were spent on the bleachers having coffee while the girls attended swimming lessons and eventually watching them teach the swimming lessons as lifeguards, afternoons at the pool or on the beach with the kids, and evenings around the campfire with friends.  Andrea also enjoyed traveling and seeing new places.  She loved skiing in the mountains and relaxing on the beach.  She had so many wonderful memories of family vacations to Panorama and Big White, Florida, Cancun, and Hawaii, and couple trips to Banff, Las Vegas, Nashville, and Puerto Vallarta with our fabulous group of friends. 
Andrea had a fulfilling career in the public school system working initially at Briercrest and then at Prince Arthur Elementary School.  She then moved to Palliser Heights Elementary School before accepting a position at the Lindale Elementary School where she worked for the past 14 years.  She loved the Lindale School community and working with all the students and great staff.
Andrea was very proud of the work she did as an Educational Assistant and the students she worked with had the benefit of a genuine caring heart who was completely dedicated to their improvement and future success.  She was the queen of fieldtrips and cherished opportunities to spend time with her students outside of the school, whether it be attending their sports games, or volunteering with extracurricular activities.
Andrea also worked at the Moose Jaw YMCA and then at the Attic Spin Studio while her girls were growing up.  She was a master at balancing work and family life, never missing an opportunity to cheer her girls on at a game or competition.  Andrea was the head of the Moose Jaw Tae Kwon Do parent association and was the girl's biggest fan.  Andrea thought physical fitness was very important and she enjoyed exercise, especially yoga and spin bike classes.
Andrea is survived by her loving husband, Warren; her two beautiful daughters, Mackenzie (Carter) and Madison; her parents, John and Jo Ann McKenzie; her brothers, Jared and Regan (Stephanie) McKenzie; and her nieces and nephews: Jaden, Hailey, Caleb, Jorryn, and Talia. 
A Celebration of Andrea's Life will take place on Friday, July 16th, 2021 at Mosaic Place Arena in Moose Jaw commencing at 3:30 p.m. (final school bell for Lindale Elementary School).  The doors will open at 2:00 p.m. to allow ample opportunity for everyone to enter and find a seat where they are comfortable.  Masks will be optional based on personal preference.  Andrea did not want a dark funeral as she wanted people to be comfortable.  Please feel free to dress in brighter casual clothing at her celebration.  She also loved hockey and in particular cheering on our Moose Jaw Warriors.  Everyone is welcome to wear a favorite team jersey, fan gear, or bring a jersey to put on the back of your seat.  
A private interment at Central Butte Cemetery will take place immediately after the celebration.  It will be followed by a barbeque and evening of fellowship at the Palliser Regional Park (5 KM south west of Riverhurst) Camp Kitchen between 6 p.m. and midnight and everyone who can attend is welcome.  
In lieu of flowers, donations may be made in Andrea's name to Phase 2 of the DLCD playground project through e-transfer to the Palliser Regional Park.  Please ensure that you indicate in memory of Andrea Miller in the message along with your name and address and a tax receipt will be issued to you.  Send to: office@palliserregionalpark.com  or cheques can be mailed to the Palliser Regional Park, P.O. Box 89, Riverhurst, SK S0H 3P0.
Finally, Andrea wanted to make sure to thank the dedicated nurses of the 3B cancer unit at the Pasqua Hospital in Regina.  You were all there for Andrea especially when our family was unable to visit her due to the tightened Covid variant restrictions and you will always have a special place in our hearts.  We also want to sincerely thank nurses and doctors on the medical ward of the Dr. F.H. Wigmore Regional Hospital in Moose Jaw who oversaw her palliative care when we got her home.  Thank you for taking such great care of Andrea.  That was a very difficult time for our family and your patience, tenderness and professionalism were remarkable.
Arrangements are entrusted to Moose Jaw Funeral Home, 268 Mulberry Lane.  James Murdock, Funeral Director 306-693-4550