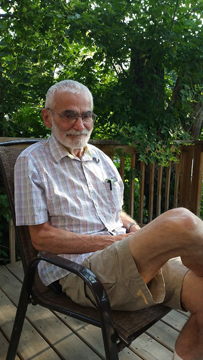 April 18, 1943 – July 28, 2023.
If Al had gotten to write his own obit, it would read: He lived, he died. Those who know him, know his story; those who don't, don't care. As his wife of 56 years, I have more to say. 
Al was primarily a husband and a father, who loved his family deeply. His work history varied, including journeyman printer, plumber, pilot, flight instructor, aircraft maintenance engineer, and sewing machine technician. He played saxophone, rode motorcycles, hunted and fished. He supported South Saskatchewan Wildlife Association and planted trees for wildlife habitat. 
His children recall him: 
Leah: Dad didn't always know how to show us how much he loved us, but I learned how to see it and he learned how to tell us. I've come to understand a lot more about Dad over the years and I'm grateful for the experiences he gave me and all that I learned from him. Perspective can alter your memories of an experience and I have many good and positive memories of Dad all through my life. I see so much of him in my sons and I hope I can continue to raise them in a way that he'd be proud. I feel like Dad and I got each other and I felt his support and love. 
Lorrie: I have meaningful memories – like when Mom and Dad arrived at Hornby Island BC on their motorcycle, having come from Moose Jaw to be at Graham's and my wedding. My childhood memories include drives to explore Buffalo Pound, flying in his plane, and listening to him play the sax. These, I will hold above the difficult times. And I will follow the life lessons he gifted us: eat well, take care of your health, and share your feelings. These were lessons he learned too late in life for him, but not for us. I thank him for opening up to us all in these past weeks to share his gratitude, regrets and love. He will be missed.
Heather: My dad and I shared a love of jazz, a daredevil streak and a stubbornness that softened in both of us as time went by. He introduced me to Monty Python, Faulty Towers and other inappropriate humour. His sweet love for my daughter, Vivian, is something I'll always hold dear. While there was turbulence in the early days, our love and respect for each other continued to grow over the years. I'll take his wisdom with me always and embrace the final lesson he shared. Aim with your heart.
Al: I see myself becoming more like Big Al every year that passes. He struggled to show his emotions, but that's how I learned to be more connected to mine. Shooting guns after my drum lessons, ripping around on the back of his motorcycle, and doing sketchy maneuvers in a Cessna. These are a few of my cherished memories. His regrets about not playing music anymore are what have driven me to pursue my dreams above all else. He raised some awesome kids. I'm honoured to be his son and his namesake.
In the last three years, Al faced increasing health challenges stemming from significant heart disease and when the pain became unbearable and recovery was not possible, he chose MAID.  He expressed much gratitude to the home care and palliative care nurses that were part of our team for the last three years, He also appreciated the MAID support team who showed professionalism, compassion, and dignity in providing his final request. 
He was predeceased by his parents, Allan Miller and Minnie Korska, and survived by his wife, Sheila (nee Burns), his daughters, Lorrie (Graham Coleman), Leah, Heather (Dave Hemstad) and his son Allan. He has seven grandchildren, Akask, Wolfgang, Chloe, Finnleigh, Devin, Leif, and Vivian. He also has one great-granddaughter, Inanna. Also surviving are his siblings: David, Bonnie, Jamie, and Cathy, and their partners and kids,  his mother-in-law, Edna Burns, and his sisters and brothers-in-law: Sandra Godfrey, Rob Burns, Nancy Burns, and their partners and kids. 
There will be a private family memorial at a future time. Memorial donations in Al's name may be made to the Friends of the Library at www.moosejawlibrary.ca.  
Arrangements are entrusted to Moose Jaw Funeral Home, 268 Mulberry Lane.  Andrew Pratt, Funeral Director 306-693-4550