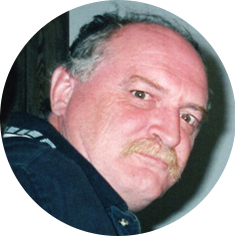 John Patrick Millar, surrounded by his family, went on to his next great adventure with great dignity at the Regina General Hospital on Sunday, November 29th, 2020.
John was born the second son to Hugh (Scotty) Millar and Catherine (Cathie) Millar (Cameron) September 7th, 1953 in Weyburn, SK.  The family lived in Weyburn until moving to Moose Jaw, SK in 1955 with the opening of the Saskatchewan Training School where dad was employed as a steam engineer.
John attended school at St Mary Catholic Elementary School and later Vanier Collegiate Institute for high school in Moose Jaw.  Following high school John attended the University of Saskatchewan in Saskatoon, SK.  He worked at the newspapers in Hay River, NWT, Moose Jaw Times Herald, and the Leader Post in Regina, SK before moving to his job with the NDP.  He began with the NDP as a speech writer for Allan Blakeney then Roy Romanow.  John also worked with various candidates of the party seeking election to government.  In later years he was appointed as the director of Strategic Planning for STC.  After several years at STC John took early retirement.  During his retirement John travelled meeting friends and attending political conventions.  He also continued to help political hopefuls with running their campaigns to seek office.
John was predeceased by his parents; his infant sister, Mary; relatives in Canada, Scotland, Holland and New Zealand.  John is survived by his brother, Jim (Rhonda) Millar and sister, Lesley (Doug) Sheppard, both of Moose Jaw; nephews: Aaron (Stephanie) Millar, Owen and Andrew of Raymore, SK, Evan (Amy) Millar and Maxon of Estevan, SK; niece, Brandi Sheppard of Brandon, MB; and many cousins and friends.
In keeping with both Covid-19 restrictions and John's wishes there will be no Funeral Service but when it is safe to do so, John would like all family and friends to gather at their favourite spot and raise a glass in remembrance and toast him.  A small graveside service will be attended by immediate family at a later date.
John and his family would like to thank the medical team, floor nurses on floor 6A and all the staff at the Regina General Hospital for all their compassionate care given to him during his stay there.  
Flowers are gratefully declined.  As an expression of sympathy, donations in John's name may be made to a charity of one's choice.  Those so wishing may leave condolences on the Moose Jaw Funeral Home website.  Arrangements are entrusted to Moose Jaw Funeral Home, 268 Mulberry Lane.  Todd Sjoberg, Funeral Director 306-693-4550