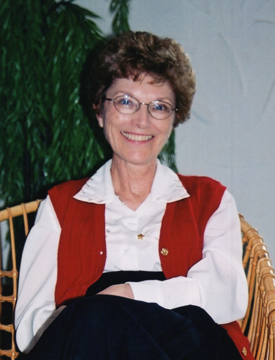 Gail Jean Mikuliak (née: Rodwell) passed away peacefully at Providence Place in Moose Jaw, SK on Tuesday, August 8th, 2023 at the age of 84 years.
Gail was born in Moose Jaw on April 14th, 1939 and lived her entire life in the city.  She was educated at Prince Arthur Elementary School, Central Collegiate, and Peacock Technical High School.  A talented pianist, Gail began teaching piano in her teen years and continued to teach students, young and old, for sixty years.  Following high school graduation, Gail began working at Saskatchewan Government Telephones.  There she met the love of her life, Orris.  Orris and Gail married in 1961.  Gail remained at home once her two sons were born and also successfully dealt with the challenges of major back surgery, lung surgery, and breast cancer, all prior to 1975.  She was resilient and eventually found herself back at work, with students and staff, as a secretary at Ross School, Peacock and Central High Schools.  Music was always present in Gail's life, whether it was teaching piano students, accompanying choirs or soloists, singing Soprano in the Zion Church Choir, or enjoying the music making of her sons and grandchildren.  She often had a knitting or needlework project on the go, needlepoint pictures and afghans, just to name a few.  Upon retirement, Gail and Orris enjoyed traveling to many places until her physical difficulties would no longer allow them to do so.  
She was predeceased by her parents, Fred and Elizabeth Rodwell; and brother-in-law, John Oparyk.  Gail is survived by her husband, Orris; sister, Gwen Gordy; sister-in-law, Wilma Oparyk; sons, Brian (Shauna) and David (Marina); and her four beloved grandchildren: Joel, Makita (Duane), Jalen (Andie), and Mataya.  As well, she leaves behind many cousins and lifelong friends, of whom she was extremely fond.
Prior to her struggle with Dementia, Gail was warm and giving with tireless energy.  Always quick to laugh and smile, she was one who enjoyed a game of cards and good company.  She will be lovingly remembered and greatly missed.
Sincere thanks to the wonderful staff at Providence Place, who cared compassionately for Gail in her final weeks.  Thanks also to Dr. Mark Brown whose care and friendship over the past 25 years have been so greatly appreciated and valued by our family.
The Funeral Service will be held on Tuesday, August 15th, 2023 at 2:00 p.m. in the Zion United Church Sanctuary, 423 Main St N, Moose Jaw, SK with Reverend Tim Ellis officiating.  In lieu of flowers, donations in Gail's memory may be made to support her lifelong faith home, Zion United Church.  Arrangements are entrusted to Moose Jaw Funeral Home, 268 Mulberry Lane.  Gary McDowell, Funeral Director 306-693-4550