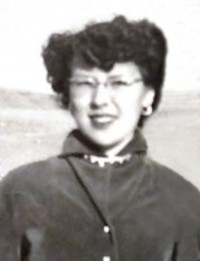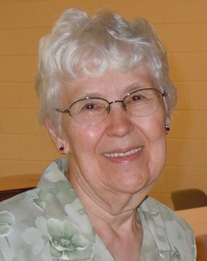 Maria (Minnie) Mikula, age 88 years, passed away peacefully on Saturday, December 25th, 2021 at Providence Place in Moose Jaw, SK.  She was predeceased by her husband of 66 years, John; sisters, Jennie and Elsie; and brother, John.  Minnie is survived by her children: Randy (Jennifer) Mikula, Sandra (Gerry) Duggleby, and Shelley (Greg) Mikula.  She will be dearly missed by all including her nine grandchildren and five great-grandchildren. 
Mom was born in Moose Jaw, Saskatchewan on October 27th, 1933.  Growing up in a small house on Maple Street with her brother and two sisters was crowded but happy.  She was taught from a young age that travel and education were very important, and she often told stories of travelling by train with her mom to Winnipeg and Vancouver.  These core values were later imprinted on her own children.  Mom always said that education was the key to independence and success.  We were never told to go to university – it was simply expected – and she was deeply proud of each one of us. 
After graduating from Peacock Technical High School, Mom worked in the accounting department at the Swift Canadian Co. packing plant.  Shortly after that, just before her 19th birthday, she met the love of her life, John.  Mom met Dad at a dance at Temple Gardens.  It was a fall evening in 1952 and she was with her best friend Marian when two young men approached to see if they could join them.  Dad famously said that they looked so innocent sitting all alone in the corner.  According to Dad, Mom was bubbly and lots of fun.  He was smitten.  Dad offered to carry Mom home, and she was a bit wary and said that she lived with Marian, which wasn't true.  Dad said that's good, I will carry both of you home.  They laughed and wondered how he would carry them home.  This was an eastern expression meaning to drive someone home, so Mom ended up at Marian's house and walked home from there.  Of course, she got over her caution, love prevailed and on July 11th, 1953, Dad and Mom got married.  Their love story is an inspiration to everyone who knew them, and they were blessed to celebrate 66 years of marriage together.  Mom's love and dedication to Dad remained for their lifetimes. 
Mom fiercely loved and protected her children, but she also ingrained a love of travel and independence to each one of us.  When we moved away from home, she quietly respected our decisions to go out and explore the world and what it had to offer.  When we came home to visit, we were greeted with love, hugs, and of course all of her delicious home cooking and desserts!  Walking into the house after being away was like being enveloped into pure comfort and love, along with the smells of roasted meats, cabbage rolls, perogies, and veggies from the garden.  After dinner was over and even before the dishes were done, homemade deer sausage went into the oven to be served shortly, along with cheese, pickles, and bread.  We all protested that we were still full from dinner, but when the homemade sausage came out of the oven, we all dug in! 
Mom was a great baker and was especially famous for her chocolate cake and chocolate chip cookies.  There was always an ice cream pail of cookies in the freezer and always a freshly baked cake at every visit.  No matter how many times we try to recreate the chocolate chip cookie recipe, it never tastes the same as Mom's.  One ingredient is always missing—her love.  
Mom was happy when the family was well off enough for her to leave her Swift's job behind and devote all her energy to our upbringing.  We were always sent out into the world with the message that we were so beautiful.  Beautiful on the inside due to the upbringing Mom gave us.  She was unwaveringly supportive of all that we did in school or in life and was always sacrificing for us.  She was our greatest cheer leader, and she always thanked God whenever we called with some good news about ourselves or about one of the grandchildren.  All of us will remember mealtimes where we begged mom to sit down and eat with us, but she was too busy making sure everyone at the table had enough to eat and drink!  Even after we were well into adulthood and off on our own, taking Mom and Dad out to a restaurant was an experience.  Mom invariably ordered the cheapest item on the menu and it sort of became a family inside joke. 
Mom's devotion to her family and husband was only matched by her selflessness in helping others.  Church was very important to her and as children, we each had 6 years of perfect attendance in the Saint Michael's Sunday School, and Shelley was the first altar girl in the Anglican Church.  These are not things that kids aspire to, but it was important to Mom and she knew it would make us better people.  She was a fixture at all of the church suppers, was on the altar guild, and took courses to help minister to others in need.  She always put God first in everything she did, ending every phone call or greeting card by thanking Jesus.  Her faith was a very important part of her life and later on it gave her the strength to overcome cancer.  Hearing bible verses and church services were very comforting to her in her later battle with dementia.  And even in the later years, she recognized the positive side of life and buoyed people's spirits by reminding them they were beautiful.  
She was loved deeply by the caregivers at Providence Place, who were always greeted by mom with an "I love you" or "you are so beautiful"!                     
Minnie will be greatly missed by her 3 children: Randy, Sandra, and Shelley and their spouses; her 9 grandchildren: Sarah, Andy, Kelly, Scott, Paul, Tim, Lucy, Nataysia, and Ameia; and her 5 great-grandchildren: Ailsa, Francis, Elliott, Sigurd, and Sawyer. 
Everyone should remember that "You are so beautiful".
We are blessed to have a mom like you. We love you.
Randy, Sandra, and Shelley
Special thanks to the staff at Providence Place, (especially St. Anthony's Wing) for their loving care and support.  
A Private Funeral Service will be held on Friday, January 7th, 2022 at 10:30 a.m. in St. Aidan's Anglican Church.  The Reverend Doctor Dean Pinter and Deacon Arleen Champion will co-officiate and interment will take place at Rosedale Cemetery.  Those not able to attend are invited to watch the service virtually by going to https://youtu.be/fiE01xcOwYk.  In lieu of flowers, donations in Minnie's name may be made to St. Aidan Anglican Church, 124 1 Ave NE, Moose Jaw, SK S6H 0Y8.  Arrangements are entrusted to Moose Jaw Funeral Home, 268 Mulberry Lane.  James Murdock, Funeral Director 306-693-4550