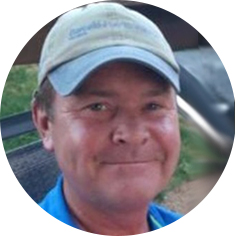 It's with tears and heavy hearts we say good bye to our beloved Todd.
Born in Dauphin, MB and raised in Moose Jaw Todd went to school at Palliser Heights and A.E. Peacock High School.
Todd loved life. He enjoyed working around the farm, tinkering with the equipment and took great pride in his collection of cars. The family would joke about Todd out polishing the polish off his cars.
As the second generation owner of McKarrs Home Furnishings, the always smiling Todd continued to work hard to grow the family business. When it came to his customers nothing was ever a problem. He was a wonderful boss, staff always came first and were considered extended family. 
Todd was most proud of his children, Beau and Makayla, always talking about the kids. He was so happy for them and their successes; Beau learning and being groomed to run the business for a third generation. Makayla striking out on her own and following her own path as a hair stylist. 
Todd was predeceased by his Dad, Murray McRoberts earlier this year and will be missed so very much by his Mother Erna, his sister Pam and brother in law Jay Butler, his daughter Makayla McRoberts, son Beau McRoberts, daughter in law Heidi and their children Hunter and Hailey. He will be forever remembered by his nieces Jacqueline (Jerred) Williams, Mackenzie (Cody) Connatty, Alexandra Butler (Evan Heisler) his nephews Adam (Aedan) Butler, Brett (Kristin) Butler, Blake Butler and all of their children. Todd will be sorely missed by everyone who knew him, his smiling face, his unforgettable laugh and his "No Problem" attitude.  Due to the current health restrictions, a Private Family Service will take place.
In lieu of flowers the family would request a donation to Heart and Stroke Foundation, Unit 26 – 1738 Quebec Ave, Saskatoon, SK S7K 1V9 .  Arrangements are entrusted to Moose Jaw Funeral Home, 268 Mulberry Lane.  James Murdock, Funeral Director 306-693-4550